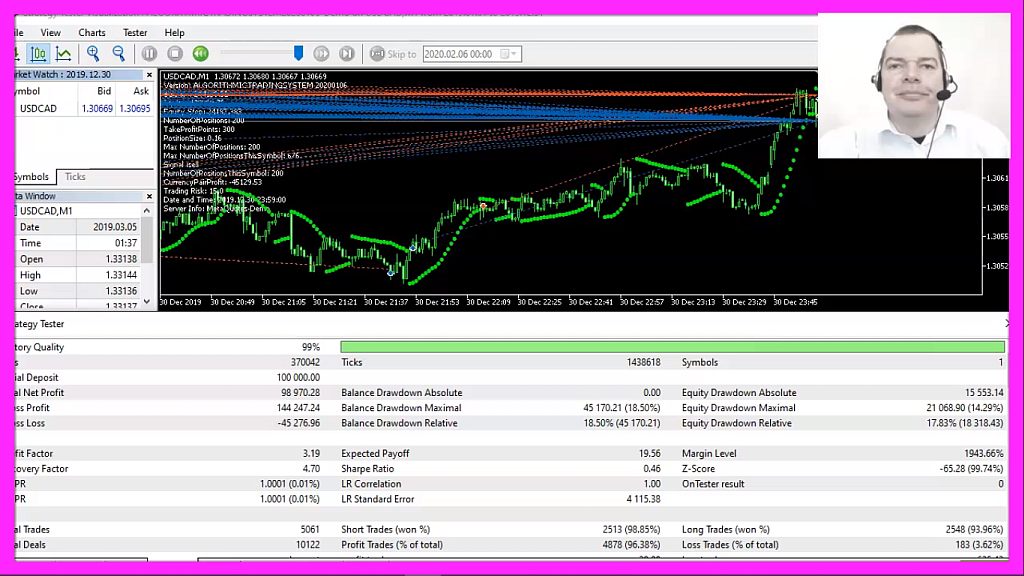 Download "FREE EXPERT ADVISOR - ALGORITHMIC TRADING SYSTEM – PARABOLIC SAR FOR METATRADER5 DEMO ACCOUNTS"

ALGORITHMICTRADINGSYSTEM20200106-Demo-SAR.zip – Downloaded 414 times – 93.56 KB
If you have watched a few of these videos, you might have noticed that it is possible to make profits with almost every entry signal. 
But that doesn't mean that all results are equal.
For example the SAR entry doesn't work well with GDP currency pairs.
I am lazy, so I do not spend much time with the things that don't work.
I rather prefer to improve the things that work well.
So I do a lot of backtesting and from time to time I will find something that works exceptionally good.
The first profitable entry signal was the Bollinger Bands system that I have coded in 2014.
I remember that I was convinced that this was the one and only thing.
But for some currency pairs, account types or stop loss settings other entry signals might be better.
You never know it, until you test it.
If you do enough backtests, you will find out what works and why it works.
It is just a question of time.
But you need to invest the time, money and effort it takes.
If you can do that, you can improve your trading results – step by step.
That will take a while, but it is time well invested.
You can download the free version for the Algorithmic Trading System below the video on our website  AlgorithmicTradingSystem.com
It will work with original Metatrader 5 demo accounts. 
If you are interested to learn more, or if you are interested to trade this system on a real account, make sure to become a starter member for just one dollar.