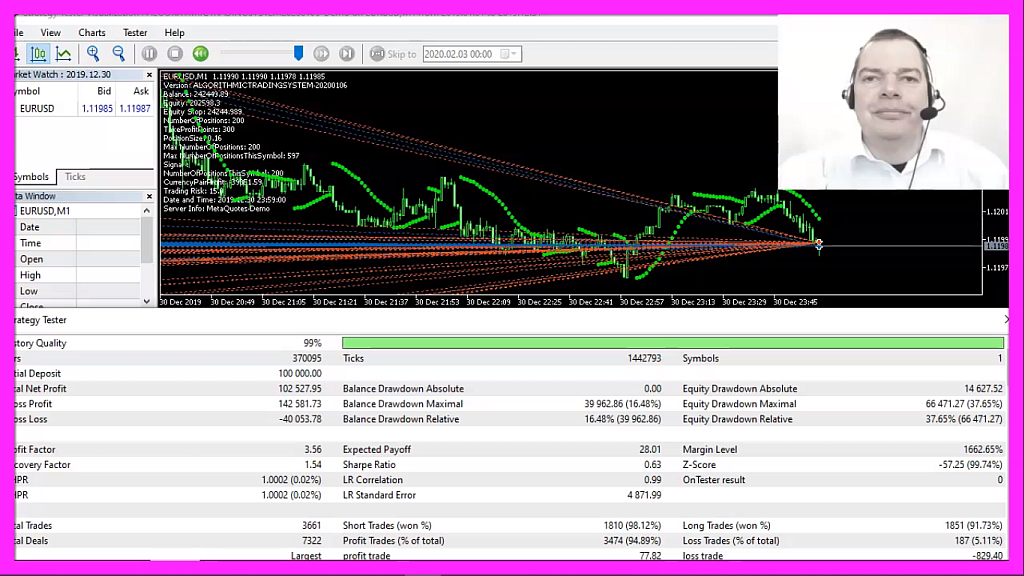 Download "FREE EXPERT ADVISOR - ALGORITHMIC TRADING SYSTEM – PARABOLIC SAR FOR METATRADER5 DEMO ACCOUNTS"

ALGORITHMICTRADINGSYSTEM20200106-Demo-SAR.zip – Downloaded 414 times – 93.56 KB
In this video we are going to trade the currency pair EURUSD for the whole year 2019 with an algo trading system that can be downloaded on the website AlgorithmicTradingSystem.com. 
The current risk setting is 15.
The entry signal is the Parabolic SAR indicator.
We are using an original Metaquotes Metatrader 5 demo account as you can create one with a few mouse clicks in Metatrader to compare it with your own results.
The Parabolic SAR indicator is an indicator that creates signals on both sides of the price.
When you watch it on the chart, it looks like this indicator can predict the future, but that is not the truth.
Why are entry signals so interesting? 
Because humans still want to believe that there is something that can be used to produce entry signals that can never fail.
Actually something like that doesn't exist, but it is possible to make a profit with this indicator.
While most people focus on the entry signal it is more about what you do after the position is opened.
You need to find a way to define the number of positions, the position size, the risk setting and a few other things.
An Algorithmic Trading System is able to do that and trade day and night, without ever getting tired or bored.
And because it will trade according to the rules it is actually the better trader.
But you don't have to believe me, you can find out if it works for you and compare your results to the ones you see in this video.
You can download the free version for the Algorithmic Trading System below the video on our website  AlgorithmicTradingSystem.com
It will work with original Metatrader 5 demo accounts.
If you are interested to learn more, or if you are interested to trade this system on a real account, make sure to become a starter member for just one dollar.