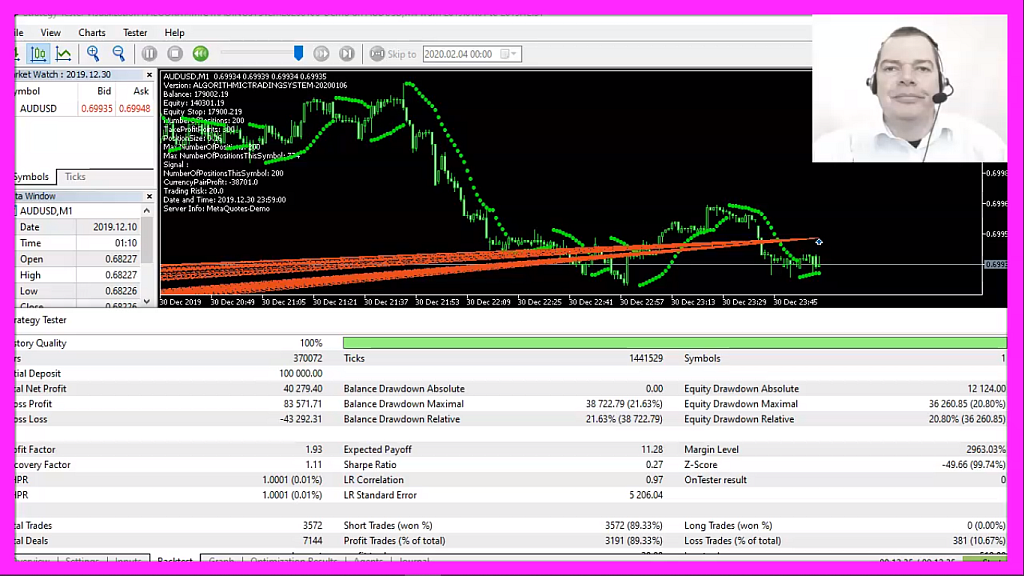 Download "FREE EXPERT ADVISOR - ALGORITHMIC TRADING SYSTEM – PARABOLIC SAR FOR METATRADER5 DEMO ACCOUNTS"

ALGORITHMICTRADINGSYSTEM20200106-Demo-SAR.zip – Downloaded 414 times – 93.56 KB
I don't trade the currency pair AUDNZD.
The reason is simple: I don't get good results with my system, at least for the year 2019.
Now some people might think that an Algorithmic Trading System should be able to deal with any currency pair.
Basically that is true, but sometimes it is just not worth the effort.
You wouldn't try to make a pair of shoes fit if the shoe size is too small for your feet, would you?
So if you find a certain currency pair that does promise not good results, why should you trade it?
In my case I am going through a whole series of tests to find out what works and why it works.
I have certain rules and I have found that there are some fundamental laws of successful trading that work all of the time.
It is like with gravity, you can believe that it exists or that it doesn't exist, but gravity will affect you, no matter what you believe.
But I don't waste my time with things that don't work.
I have no idea why I have no passion for sports cars and I don't try to fix that.
I am simply not interested.
I am also not interested in art or knitting.
That is just the way it is, so why should I try to fix that?
But I like good results and I like to improve my Algorithmic Trading System.
So that is what I did for over half a decade.
You can download the free version for the Algorithmic Trading System below the video on our website  AlgorithmicTradingSystem.com
It will work with original Metatrader 5 demo accounts.
If you are interested to learn more, or if you are interested to trade this system on a real account, make sure to become a starter member for just one dollar.