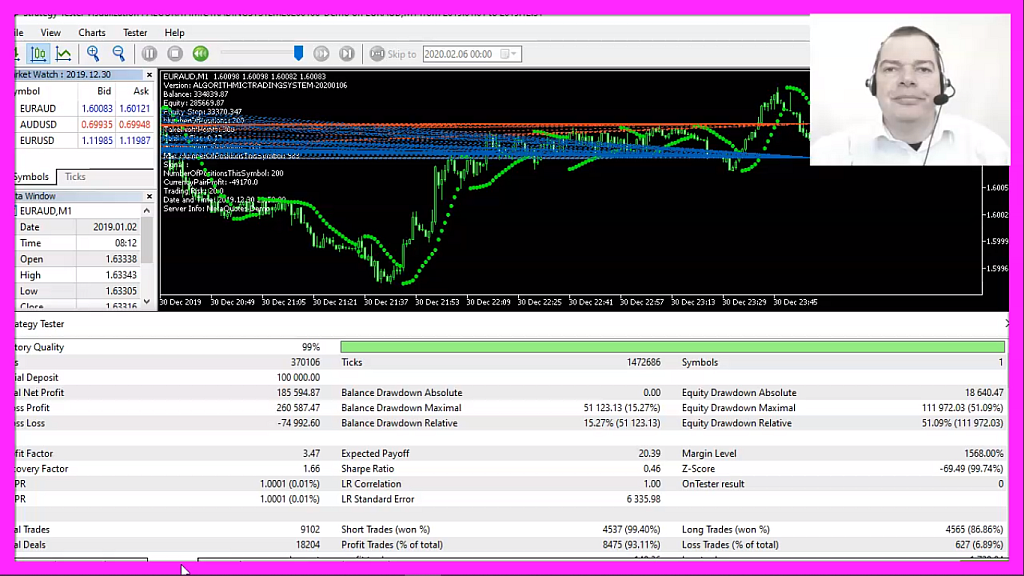 Download "FREE EXPERT ADVISOR - ALGORITHMIC TRADING SYSTEM – PARABOLIC SAR FOR METATRADER5 DEMO ACCOUNTS"

ALGORITHMICTRADINGSYSTEM20200106-Demo-SAR.zip – Downloaded 414 times – 93.56 KB
Would you think that a $100000 drawdown is okay? Or is it too much?
I don't think that many traders would be able to face something like that on their real account, but actually it can happen.
In this video you will see something like that and even with a big drawdown it is a working system.
You might see the end result and think that this is indeed a good outcome, but most people will never see something like this, because they stop their system in the middle of the drawdown.
That is just human, it is what we do when we are fearful.
Your Algorithmic Trading System wouldn't do that.
It simply follows the trading rules.
It will not do something stupid, because it doesn't care.
An Algorithmic Trading System has no feelings and it doesn't try to bend the rules.
It is able to trade a $100000 drawdown where you couldn't stand the pain.
Getting something that is able to do that is actually not so hard.
The hard thing is not to interrupt and manipulate it, once the fear starts to dominate your thoughts.
I think the really good traders with the really good results are able to stick to the rules.
You can download the free version for the Algorithmic Trading System below the video on our website  AlgorithmicTradingSystem.com
It will work with original Metatrader 5 demo accounts. 
If you are interested to learn more, or if you are interested to trade this system on a real account, make sure to become a starter member for just one dollar.