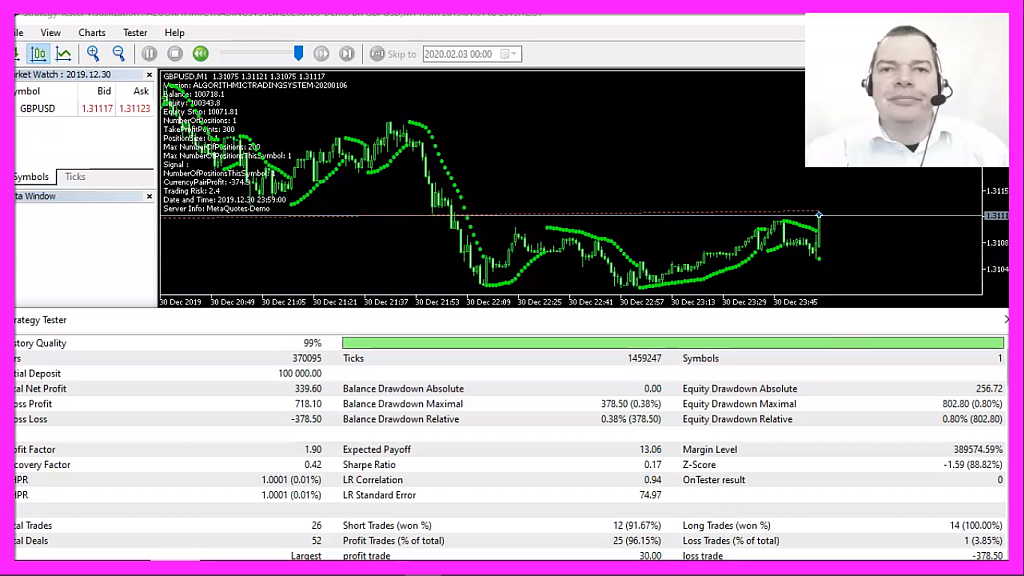 Download "FREE EXPERT ADVISOR - ALGORITHMIC TRADING SYSTEM – PARABOLIC SAR FOR METATRADER5 DEMO ACCOUNTS"

ALGORITHMICTRADINGSYSTEM20200106-Demo-SAR.zip – Downloaded 414 times – 93.56 KB
For most trading entries it is possible to create a profitable result.
In this case it is a very small profit.
The reason is, that I have chosen to trade a whole year for each of these strategy test videos and from time to time the draw down will be at the end of December.
Our Metatrader is not able to take that into consideration as we have provided a fixed test period.
But in real life you wouldn't close your account in the middle of the draw down.
It would be a better idea to close all open positions in a phase where Balance and Equity are very close to each other.
Algorithmic Trading is a good tool, but it is not a way to make trading failsafe.
If you have a closer look to the website of your broker, you will see disclaimers that trading is risky and you can make big losses.
It is possible to avoid that with a small risk setting, like we have used in this video.
But a smaller risk setting also comes with lower profits – and after all that is what trading is all about.
You can download the free version for the Algorithmic Trading System below the video on our website  AlgorithmicTradingSystem.com
It will work with original Metatrader 5 demo accounts.
If you are interested to learn more, or if you are interested to trade this system on a real account, make sure to become a starter member for just one dollar.