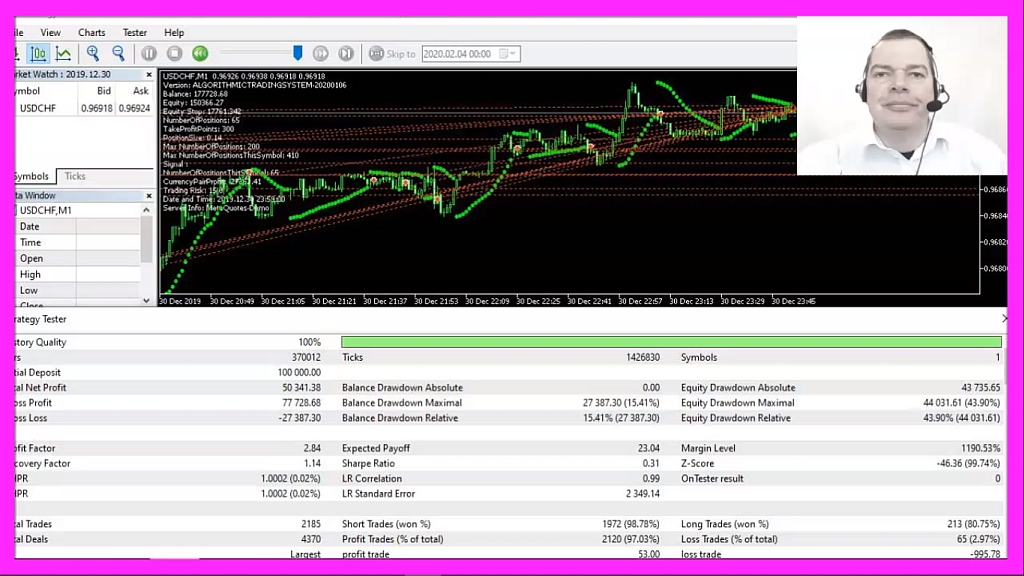 Download "FREE EXPERT ADVISOR - ALGORITHMIC TRADING SYSTEM – PARABOLIC SAR FOR METATRADER5 DEMO ACCOUNTS"

ALGORITHMICTRADINGSYSTEM20200106-Demo-SAR.zip – Downloaded 414 times – 93.56 KB
The entry signal is the Parabolic SAR indicator.
We are using an original Metaquotes Metatrader 5 demo account as you can create one with a few mouse clicks in Metatrader to compare it with your own results.
One thing that you need to consider is the maximal drawdown that you could take on your real account.
Most people might say that they have no problem if the system is profitable, but sooner or later you will see a big draw down and that is when you need to make a decision.
That is the time, when you need to decide if you trust the system.
Because a drawdown will always look like an unavoidable loss.
And sometimes it indeed is.
Depending on your broker, you might have very different settings for the required liquidity.
Some brokers will start to close your positions when your equity is below 50 percent.
You need to take that in consideration.
Your demo account will have absolutely no problem with draw downs that go far below that point.
So if you have tested something, make sure that it is also within the boundaries of your broker.
Some brokers provide a higher leverage, a lower margin requirement and better conditions than other ones.
It is always a good idea to invest some time to find the broker that is right for you.
You can download the free version for the Algorithmic Trading System below the video on our website  AlgorithmicTradingSystem.com
It will work with original Metatrader 5 demo accounts.
If you are interested to learn more, or if you are interested to trade this system on a real account, make sure to become a starter member for just one dollar.