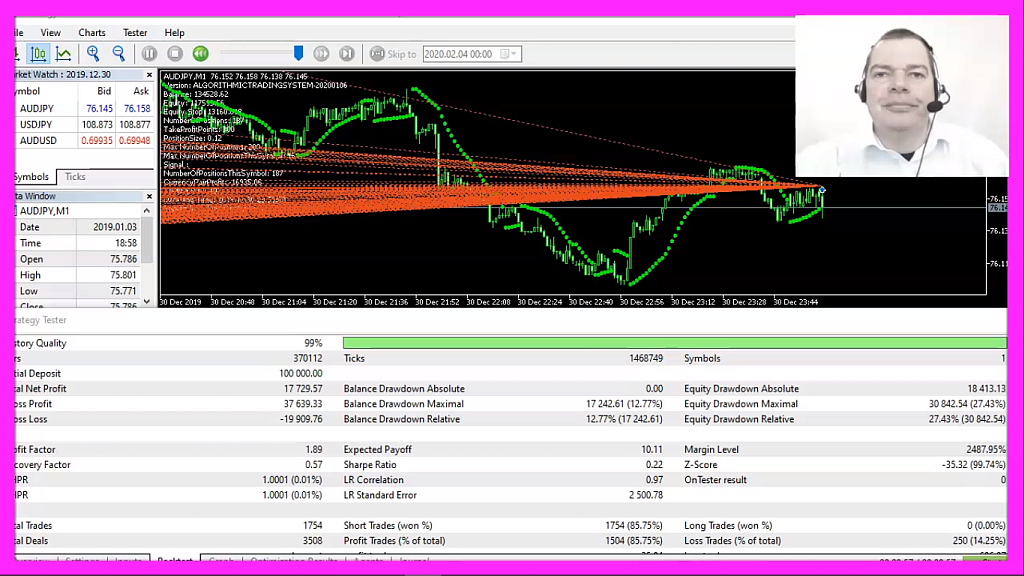 Download "FREE EXPERT ADVISOR - ALGORITHMIC TRADING SYSTEM – PARABOLIC SAR FOR METATRADER5 DEMO ACCOUNTS"

ALGORITHMICTRADINGSYSTEM20200106-Demo-SAR.zip – Downloaded 414 times – 93.56 KB
Just for this video series I have done dozens and dozens of strategy tests.
That is not as interesting now as it was when I did it for the first time, but it is my kind of training.
Usually people know that training is what makes the difference.
You need to do pushups if you want to strengthen your arms.
It doesn't help that you understand that.
It doesn't help if you know that you should do it.
The only thing that will change something is when you actually do it.
I actually do a lot of strategy tests.
And I have done it for over half a decade now.
Would you think that my results are now better – or worse?
And would you think that repeating something over and over again could improve your results?
Actually it is easy to do.
It doesn't cost anything, it is not very complicated, but most people prefer to throw their money into some dark whole and hope for the best.
All you have to do is to just do it. 
Not talk about it, not understand it or think that you could or should do it.
You can start right away.
We are using an original Metaquotes Metatrader 5 demo account as you can create one with a few mouse clicks in Metatrader to compare it with your own results.
You can download the free version for the Algorithmic Trading System below the video on our website  AlgorithmicTradingSystem.com
It will work with original Metatrader 5 demo accounts.
If you are interested to learn more, or if you are interested to trade this system on a real account, make sure to become a starter member for just one dollar.