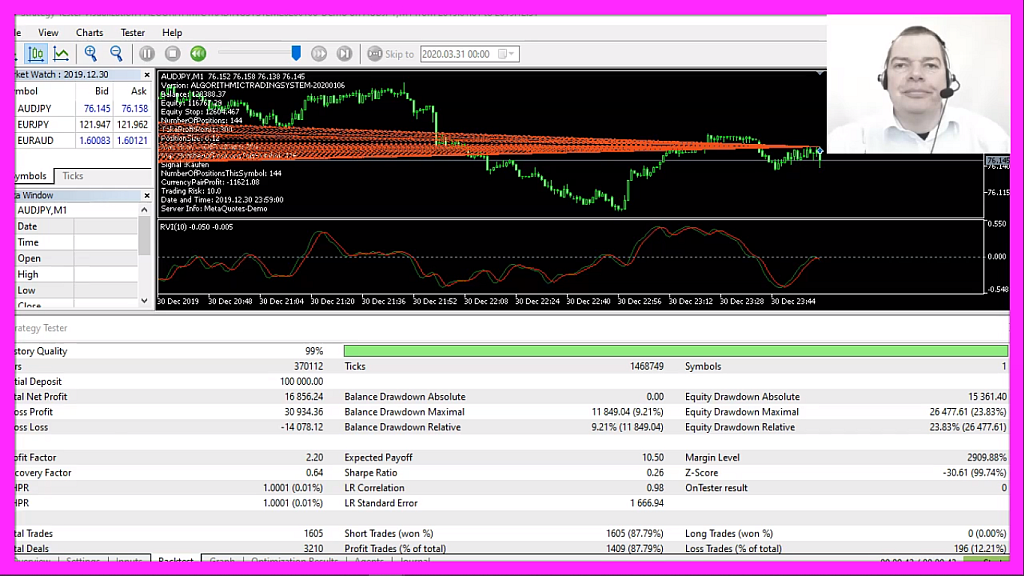 Download "FREE EXPERT ADVISOR - ALGORITHMIC TRADING SYSTEM – RELATIVE VIGOR INDEX FOR METATRADER5 DEMO ACCOUNTS"

ALGORITHMICTRADINGSYSTEM20200106-Demo-RVI.zip – Downloaded 307 times – 93.20 KB
Do you think the entry signal is the most important thing for a trading system?
And if you think the entry is important, how do you know?
What would be the best possible way to prove or disprove a market advantage?
I think the main problem is that most traders only see one reality – and that is their own experience.
Let's imagine you have traded the Relative Vigor Index for the last 5 years, how do you know if there is a better version?
And how do you know if the settings you use are the best settings?
Maybe a slightly different value for the risk setting or another position size might make a very big difference.
The only way to find out if alternative strategies are better or worse is to simply test that.
You can do that in a few minutes with automated trading, but as a discretionary trader you would never be able to do a few hundred or even a few thousand trades in a row.
With an Algorithmic Trading System you can do that for a dozen currency pairs or a dozen years on a single rainy Sunday afternoon.
You can download the free version for the Algorithmic Trading System below the video on our website  AlgorithmicTradingSystem.com
It will work with original Metatrader 5 demo accounts.
If you are interested to learn more, or if you are interested to trade this system on a real account, make sure to become a starter member for just one dollar.