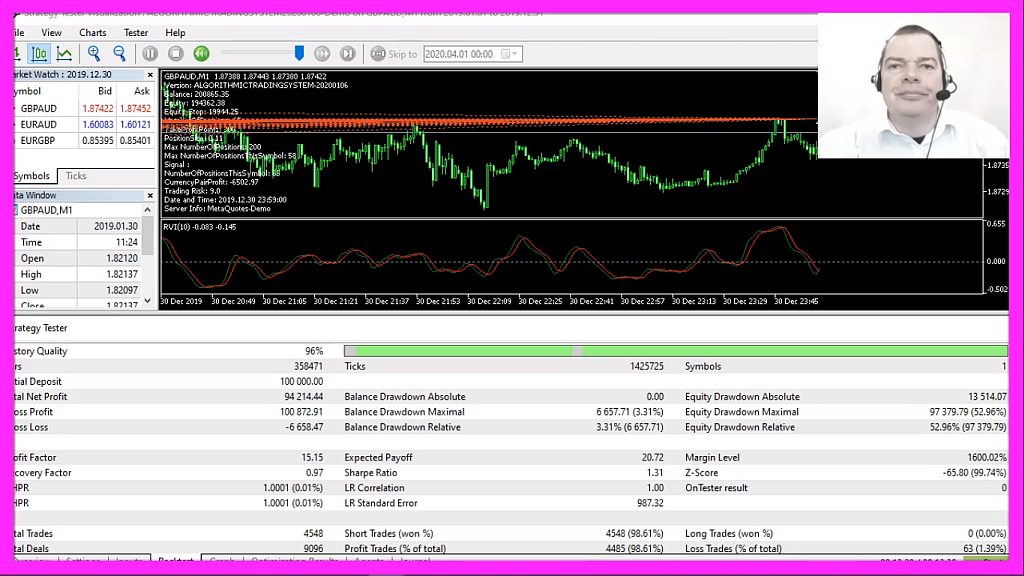 Download "FREE EXPERT ADVISOR - ALGORITHMIC TRADING SYSTEM – RELATIVE VIGOR INDEX FOR METATRADER5 DEMO ACCOUNTS"

ALGORITHMICTRADINGSYSTEM20200106-Demo-RVI.zip – Downloaded 307 times – 93.20 KB
A good trading strategy is something that produces good results.
For me good results are moderate long term profits and low draw downs.
But depending on your own preferences good results might be something different.
There is one question that is asked often and that is the question "How much money can I make?"
I usually ask a second question then and that is "How much money can you stand to lose?"
In my opinion profits and losses are unavoidable when you trade.
But if you would like to see a $10000 profit, you also need to accept the fact that a $10000 loss is possible.
It can happen and that is why you always see the warning disclaimers on your brokers website.
The trick is to trade something where those losses are not very likely.
That is why I always decrease the risk setting when I see a draw down that is too big for me.
Depending on your capitalization that might be something entirely different for you.
If you can adjust your trading system to fit your needs, you will increase your trust in the system – and that helps to avoid manipulations when it gets tough.
You can download the free version for the Algorithmic Trading System below the video on our website  AlgorithmicTradingSystem.com
It will work with original Metatrader 5 demo accounts.
If you are interested to learn more, or if you are interested to trade this system on a real account, make sure to become a starter member for just one dollar.