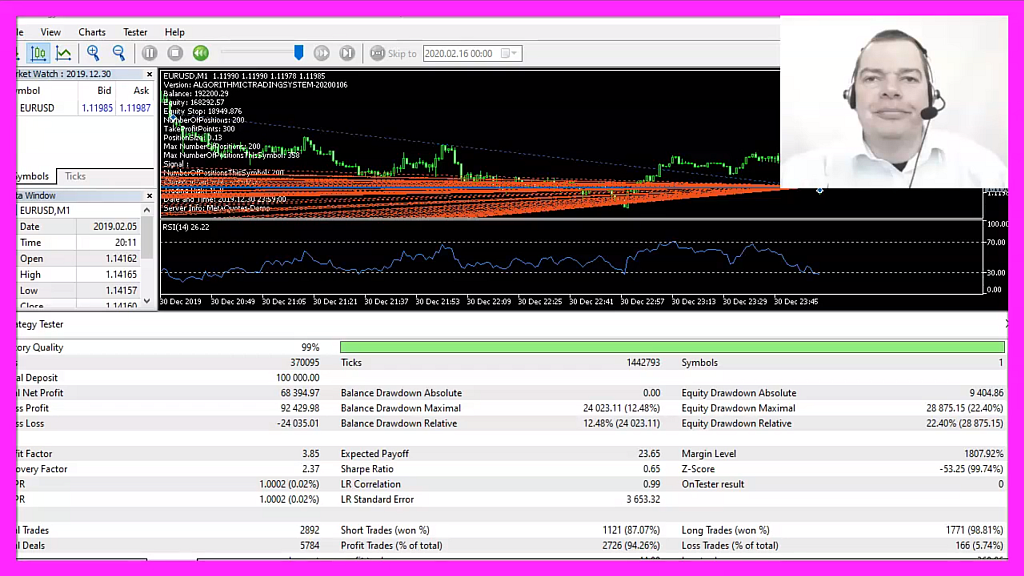 Download "FREE EXPERT ADVISOR - ALGORITHMIC TRADING SYSTEM – RSI RELATIVE STRENGTH INDEX FOR METATRADER5 DEMO ACCOUNTS"

ALGORITHMICTRADINGSYSTEM20200106-Demo-RSI.zip – Downloaded 661 times – 94.40 KB
Some indicators are more popular than others.
The RSI is one of the better known examples.
But usually it is not used to generate buy and sell signals, because it is an oscillator.
By definition an oscillator is usually used as a filter for a trend indicator, but in our case we will use it to generate entry signals.
There is a common misunderstanding about cause and correlation.
We need a defined entry signal to open a position and that is what the RSI can do.
The entry signal we use is not the reason for a profitable result, it is not that important.
Most people focus on certain entry signals, but actually other parts of an automated system are more important.
There is some correlation, you can see that different entry signals will create different results for the same currency pair.
But this is not as important as most people think.
Fortunately it is easy for you to find out, if the RSI is the right choice for you.
You can download the free version for the Algorithmic Trading System below the video on our website  AlgorithmicTradingSystem.com
It will work with original Metatrader 5 demo accounts.
If you are interested to learn more, or if you are interested to trade this system on a real account, make sure to become a starter member for just one dollar.