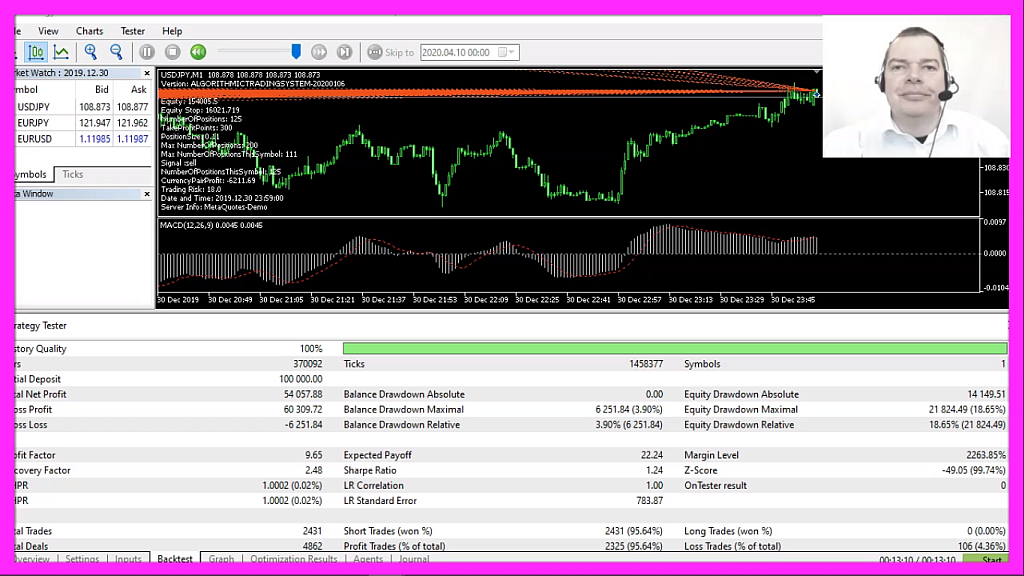 Download "FREE EXPERT ADVISOR - ALGORITHMIC TRADING SYSTEM – MACD FOR METATRADER5 DEMO ACCOUNTS"

ALGORITHMICTRADINGSYSTEM20200106-DemoMACD.zip – Downloaded 269 times – 93.17 KB
So what do you want from trading?
Good results is probably the answer.
But what are good results?
While profit obviously depends on a system that produces good results, it might mean something entirely different for each trader.
Maybe I am trading a different kind of account type, a different kind of strategy and you might have a different capitalization.
Maybe I accept a 70 percent drawdown, because my system has a very low stop out level and you can only accept 40 percent.
Trading is not something that has strict rules.
You can pick one or several indicators.
You can set different parameters for each indicator.
You can prefer different position sizes or more or less positions than I do.
But there are some things that are valid for each trading account and each result.
If you know these things, you have good chances to improve your results.
One of these things is the fact that your results will depend on the risk that you are willing to take.
There is no strict rule about how much risk is too much risk, but I have a personal rule that worked well for the last few years.
That rule is that I am never going to let my accounts get big enough to be a danger for my current lifestyle in case of a total loss.
You can download the free version for the Algorithmic Trading System below the video on our website  AlgorithmicTradingSystem.com
It will work with original Metatrader 5 demo accounts.
If you are interested to learn more, or if you are interested to trade this system on a real account, make sure to become a starter member for just one dollar.