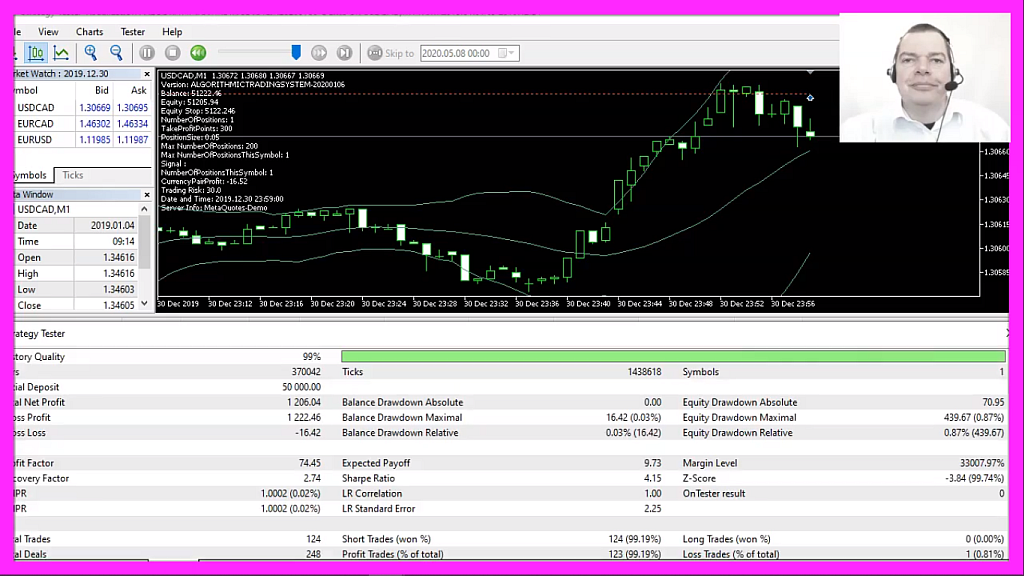 Download "FREE EXPERT ADVISOR - ALGORITHMIC TRADING SYSTEM – BOLLINGER BANDS FOR METATRADER5 DEMO ACCOUNTS"

ALGORITHMICTRADINGSYSTEM20200106-Demo-Bollinger.zip – Downloaded 291 times – 95.16 KB
In this video we are going to trade the currency pair USDCAD for the whole year 2019 with an algo trading system that can be downloaded on the website AlgorithmicTradingSystem.com. 
The current risk setting is 30.
The entry signal is the Bollinger Bands indicator.
We are using an original Metaquotes Metatrader 5 demo account as you can create one with a few mouse clicks in Metatrader to compare it with your own results.
Each person has a different feeling for risk.
For example I have seen documentations where people jump out of helicopters just with a snowboard. 
And afterwards they are going downhill, taking routes that average people wouldn't even be able to climb.
Or have you seen those people who can jump up into the sky, with their motorbike and even do a backflip while they do it?
How did they survive long enough to do that even once?
I don't get that and I am really risk averse.
Yes, I like to see action movies, but I wouldn't like to even spend one average workday with James Bond.
Therefore I prefer to trade with settings that will most likely produce a slow but consistent growth.
But I also understand that this is not for everybody.
If you like to take huge risks to gain huge rewards, maybe you should look for a different solution.
But if you are trading for the results and not for the entertainment, algorithmic trading might be for you.
And you can do it while your not in front of your screen, so you have more time to do exciting things with your motorbike or your snowboard.
You can download the free version for the Algorithmic Trading System below the video on our website  AlgorithmicTradingSystem.com
It will work with original Metatrader 5 demo accounts.
If you are interested to learn more, or if you are interested to trade this system on a real account, make sure to become a starter member for just one dollar.