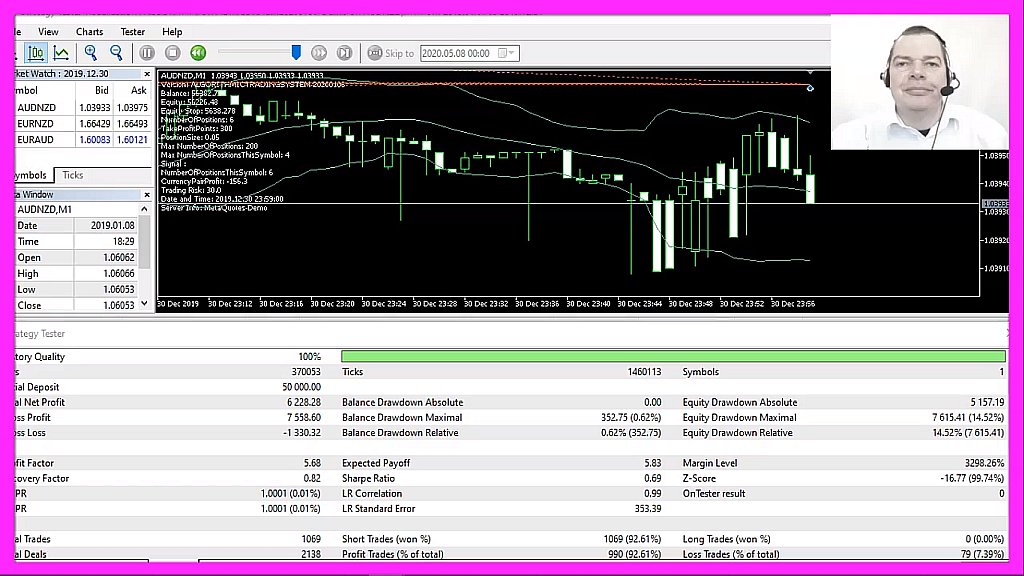 Download "FREE EXPERT ADVISOR - ALGORITHMIC TRADING SYSTEM – BOLLINGER BANDS FOR METATRADER5 DEMO ACCOUNTS"

ALGORITHMICTRADINGSYSTEM20200106-Demo-Bollinger.zip – Downloaded 291 times – 95.16 KB
In this video we are going to trade the currency pair AUDNZD for the whole year 2019 with an algo trading system that can be downloaded on the website AlgorithmicTradingSystem.com. 
The current risk setting is 30.
The entry signal is the Bollinger Bands indicator.
We are using an original Metaquotes Metatrader 5 demo account as you can create one with a few mouse clicks in Metatrader to compare it with your own results.
So what kind of currency pairs should I trade?
From time to time this is one of the questions that I get.
Well, basically it depends on the conditions.
First of all your broker needs to offer a currency pair and that is different from broker to broker.
Some brokers only offer the major currency pairs, others have several dozen exotic forex pairs.
The second thing is that you need to know if it is liquid enough.
Liquidity is required to buy and sell when you want to do it. 
There are some currencies that don't have enough liquidity to find a buyer when you want to sell.
The third thing is the spread. That can be very expensive, especially for exotic currency pairs.
And last but not least you need to pick the currency pairs where you can expect good results.
In the past I have tried to find out why some currency pairs worked better than others, but today I know that it doesn't really matter.
I just go with the ones that work and don't trade the ones that don't work.
You can do strategy tests and trade on a demo account for a few months to find out what works for you.
You can download the free version for the Algorithmic Trading System below the video on our website  AlgorithmicTradingSystem.com
It will work with original Metatrader 5 demo accounts.
If you are interested to learn more, or if you are interested to trade this system on a real account, make sure to become a starter member for just one dollar.