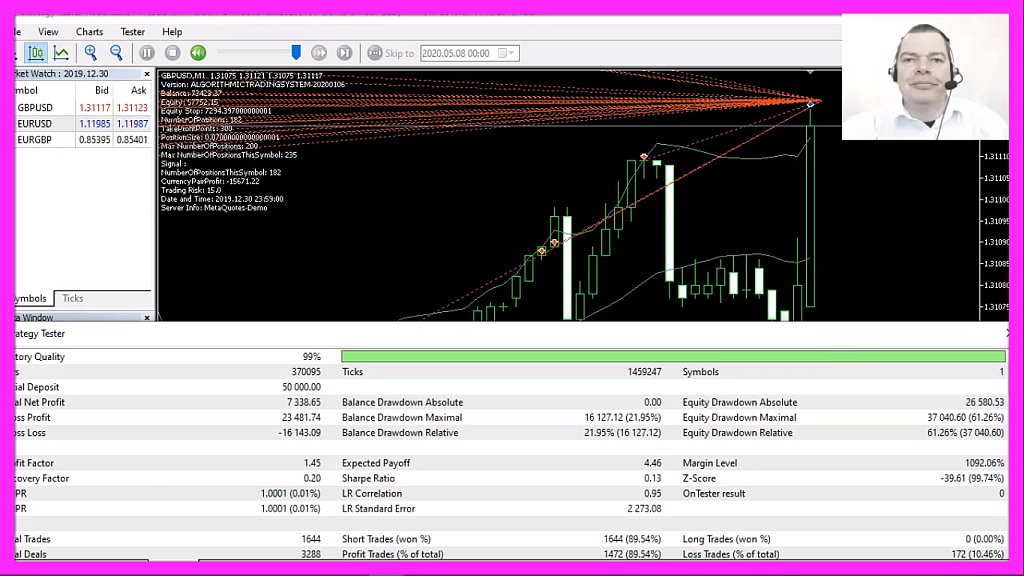 Download "FREE EXPERT ADVISOR - ALGORITHMIC TRADING SYSTEM – BOLLINGER BANDS FOR METATRADER5 DEMO ACCOUNTS"

ALGORITHMICTRADINGSYSTEM20200106-Demo-Bollinger.zip – Downloaded 291 times – 95.16 KB
In this video we are going to trade the currency pair GBPUSD for the whole year 2019 with an algo trading system that can be downloaded on the website AlgorithmicTradingSystem.com. 
The current risk setting is 15.
The entry signal is the Bollinger Bands indicator.
We are using an original Metaquotes Metatrader 5 demo account as you can create one with a few mouse clicks in Metatrader to compare it with your own results.
When I started out with automated trading, my main goal was to find out if I could find something that would be profitable on a consistent basis.
Well, actually it took me a while to figure out, but my first profitable system was indeed a Bollinger Bands system.
It was the one thing that convinced me that all this algo trading stuff really is worth the time.
Because once you have done it, you know that you can do it again.
Maybe this is the reason why the Bollinger Bands are still my favourite entry signal today.
Most people think that a good trading signal should be able to predict the future, but actually this is not true.
No indicator can see what is going to happen, all indicators are visual representations of the past events.
But the Bollinger Bands indicator is able to work in good and bad times. 
It is pretty stable, even when the volatility goes through the roof.
That doesn't mean that you can create a profitable system just with this entry, but it is the one entry that I still like to use for most of my systems.
You can download the free version for the Algorithmic Trading System below the video on our website  AlgorithmicTradingSystem.com
It will work with original Metatrader 5 demo accounts.
If you are interested to learn more, or if you are interested to trade this system on a real account, make sure to become a starter member for just one dollar.