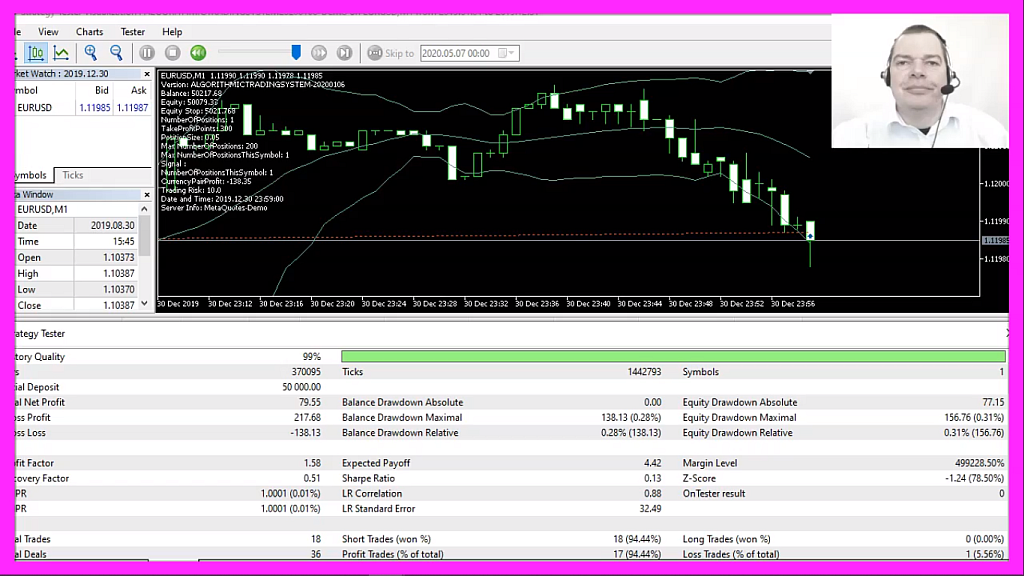 Download "FREE EXPERT ADVISOR - ALGORITHMIC TRADING SYSTEM – BOLLINGER BANDS FOR METATRADER5 DEMO ACCOUNTS"

ALGORITHMICTRADINGSYSTEM20200106-Demo-Bollinger.zip – Downloaded 291 times – 95.16 KB
In this video we are going to trade the currency pair EURUSD for the whole year 2019 with an algo trading system that can be downloaded on the website AlgorithmicTradingSystem.com. 
The current risk setting is 10.
The entry signal is the Bollinger Bands indicator.
We are using an original Metaquotes Metatrader 5 demo account as you can create one with a few mouse clicks in Metatrader to compare it with your own results.
Sometimes things do not go as planned.
In this example you will see that the Expert Advisor is not performing very well.
You might be not very satisfied with the fact that you don't make a lot of profit.
But actually the Expert Advisor does its job.
It calculates the entry signas.
It calculates the position size.
And it calculates the number of positions that should be opened.
Someone says "But it doesn't trade".
And this is true, you will not see a lot of positions in this backtest.
But is this not actually a good thing?
The idea is to stick to the trading rules and not to do something stupid.
The idea is to minimize the risk and make a profit.
In some cases the profit is very small and it does not justify the account capitalization.
But a small profit still is better than a big loss, don't you think?
Humans always want to improve things, but from time to time a small profit is all you can expect.
But with a multi currency system you can still make bigger profits with the other currency pairs – if you know how to properly adjust your trading risk.
You can download the free version for the Algorithmic Trading System below the video on our website  AlgorithmicTradingSystem.com
It will work with original Metatrader 5 demo accounts.
If you are interested to learn more, or if you are interested to trade this system on a real account, make sure to become a starter member for just one dollar.