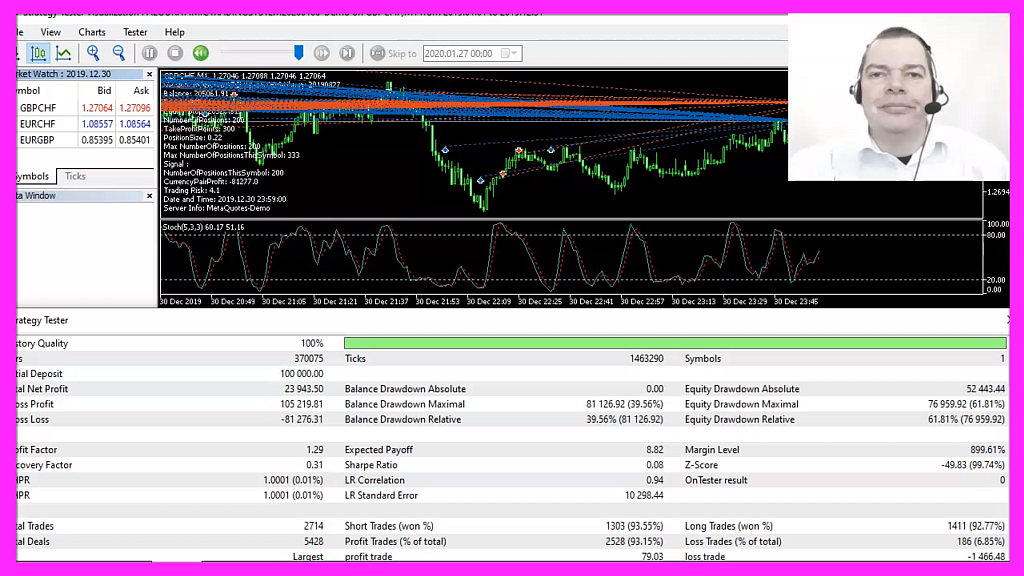 Download "FREE EXPERT ADVISOR - ALGORITHMIC TRADING SYSTEM – STOCHASTIC FOR METATRADER5 DEMO ACCOUNTS"

ALGORITHMICTRADINGSYSTEM20200106-Demo-Stochastic.zip – Downloaded 967 times – 93.60 KB
Sometimes it is hard to find the right risk setting for an Algorithmic Trading System.
In this case the setting is 4.1 – and that means that I have tried other values before and that didn't work very well.
The basic idea is to start with a small risk setting and increase it if everything works well.
For a risk setting of 1 you can expect a very low risk – but that also means that you will not see big profits.
A higher risk setting can increase the profit, but in case of a draw down it can also increase the chance that you make a bigger loss.
To find the right setting, it is often a good idea to trade different years and different currency pairs and adjust it afterwards.
Trading conditions change from time to time, so not everything that worked in the past will work in the future.
One of the things that I do is that I trade at least 8 years in a row and if my risk setting is able to do that and produce a good result, I will use that setting.
That is still not bulletproof, but I consider the probability to be above average.
You can download the free version for the Algorithmic Trading System below the video on our website  AlgorithmicTradingSystem.com
It will work with original Metatrader 5 demo accounts.
If you are interested to learn more, or if you are interested to trade this system on a real account, make sure to become a starter member for just one dollar.