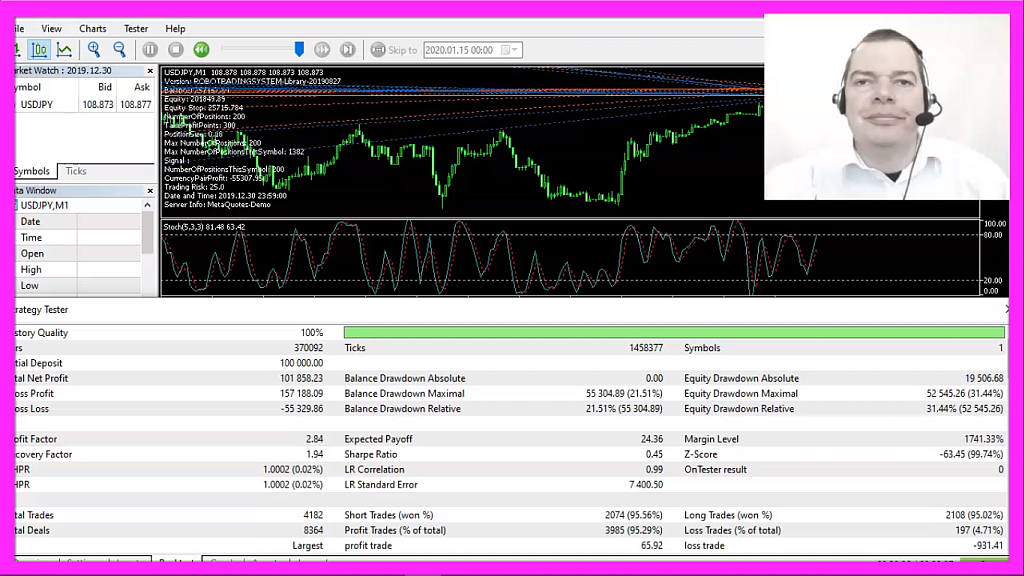 Download "FREE EXPERT ADVISOR - ALGORITHMIC TRADING SYSTEM – STOCHASTIC FOR METATRADER5 DEMO ACCOUNTS"

ALGORITHMICTRADINGSYSTEM20200106-Demo-Stochastic.zip – Downloaded 967 times – 93.60 KB
For an Algorithmic Trading System you need to define strict rules.
1 is a fixed number. 
1 and can not be a little bit 1 or almost 1.
But humans tend to act according to their current feelings.
They would like to reach a goal, but tend to give up before they reach it, especially  when it comes to trading.
If you would like to make a profit of $100 you are most likely tempted to close the position when it has made $90 or $95 profit.
What if it turns around?
You have almost reached your goal and the closer the finish line, the closer is the temptation to take the profit before you even reach it.
It would give you a feeling of accomplishment.
It would make you feel better.
So you sit in front of your screen and take the profit before you reach your goal.
But what about losses?
Do you like losses?
Most people would say NO.
Most people hate losses.
And now you stare on your computer screen and see a loss.
How does it make you feel?
Probably you want to open a revenge trade.
Making back the money that you have just lost.
This is human, and this is why most humans fail in trading.
You can download the free version for the Algorithmic Trading System below the video on our website  AlgorithmicTradingSystem.com
It will work with original Metatrader 5 demo accounts.
If you are interested to learn more, or if you are interested to trade this system on a real account, make sure to become a starter member for just one dollar.