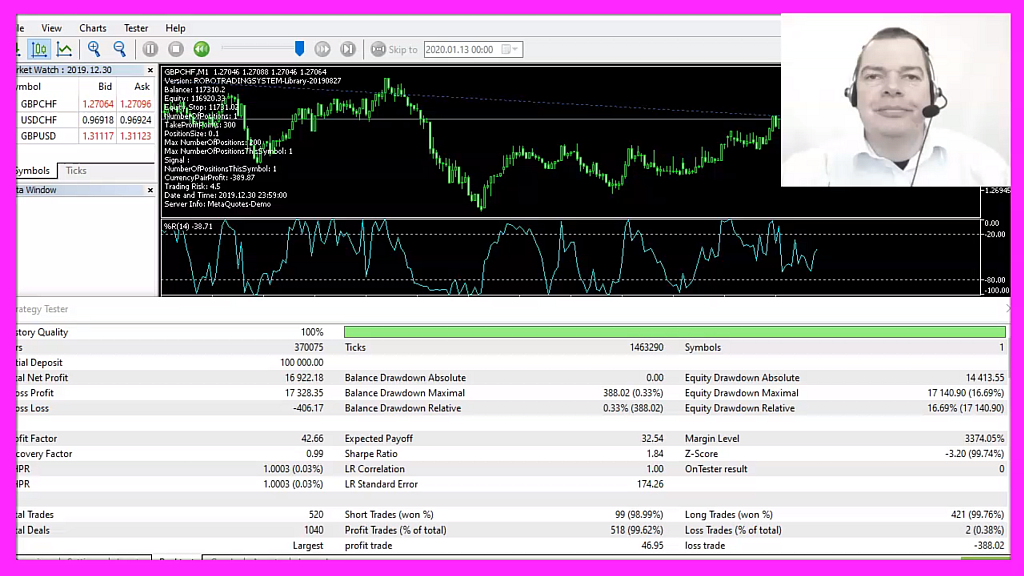 Download "FREE EXPERT ADVISOR - ALGORITHMIC TRADING SYSTEM - WILLIAMS PERCENT RANGE FOR METATRADER5 DEMO ACCOUNTS"

ALGORITHMICTRADINGSYSTEM20200106-Demo-WPR.zip – Downloaded 778 times – 92.99 KB
So why should we use a risk setting of 4.5 instead of 5?
Well, the reason is simple!
With a risk setting of 5 you could expect a big loss in this case.
There is no one size fits all solution, I found out the right risk setting by increasing it.
A risk setting of 4 will create a profit, a risk setting of 5 will create a loss.
It looks like a small step, but it has a big impact on the end result.
In a former version I didn't have floating type values and I noticed that I was unable to adjust the risk setting properly.
So I decided to change the system and add this feature.
I also added variable lot sizes and support for smaller accounts.
For each change I had to do a lot of backtests to find out if everything works as desired.
That is why I create these videos, because I need to do it anyhow.
Some people asked me why I don't do individual programming.
The reason is simple.
I can't do everything, I need to pick my battles as my time is restricted.
And a small change like a floating type variable for risk settings can make such a big impact for the results. 
But all the tests are very time consuming.
You can download the free version for the Algorithmic Trading System below the video on our website  AlgorithmicTradingSystem.com
It will work with original Metatrader 5 demo accounts.
If you are interested to learn more, or if you are interested to trade this system on a real account, make sure to become a starter member for just one dollar.