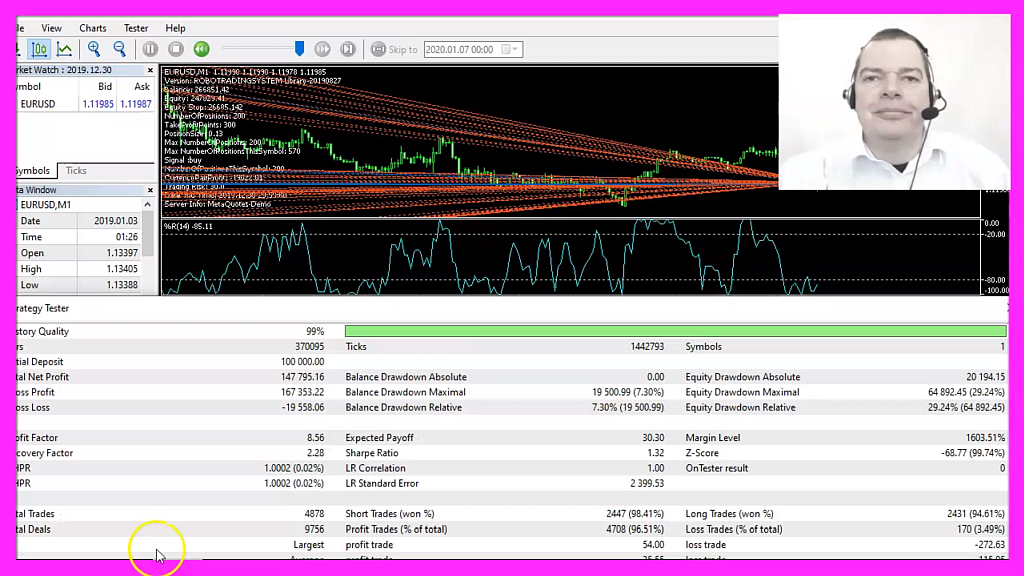 Download "FREE EXPERT ADVISOR - ALGORITHMIC TRADING SYSTEM - WILLIAMS PERCENT RANGE FOR METATRADER5 DEMO ACCOUNTS"

ALGORITHMICTRADINGSYSTEM20200106-Demo-WPR.zip – Downloaded 778 times – 92.99 KB
The WPR oscillator is usually used to confirm or filter trent indicators, but in this case we are using it to generate buy and sell signals.
As you see, it does it well, even it was not build to do that.
Most people are very interested to find the right entry signal.
They believe that there should be something that is able to predict the future.
Actually I have never seen any entry signal that would not produce false buy and sell signals from time to time.
The entry signal is exciting, so people keep talking about it, but from my experience it is not what will make or break a good Algorithmic Trading System.
Usually it is what happens after a position has been opened.
You need to calculate the number of positions that you want to trade for each currency pair.
You need to decide when you want to increase or decrease the number of allowed positions.
You need to find a way to deal with outages, problems and interruptions.
Actually the WPR entry is as good as any other entry, but it would be possible to make huge losses if the rest of the system is not working well.
All the parts must work together to make a profit.
You can download the free version for the Algorithmic Trading System below the video on our website  AlgorithmicTradingSystem.com
It will work with original Metatrader 5 demo accounts.
If you are interested to learn more, or if you are interested to trade this system on a real account, make sure to become a starter member for just one dollar.