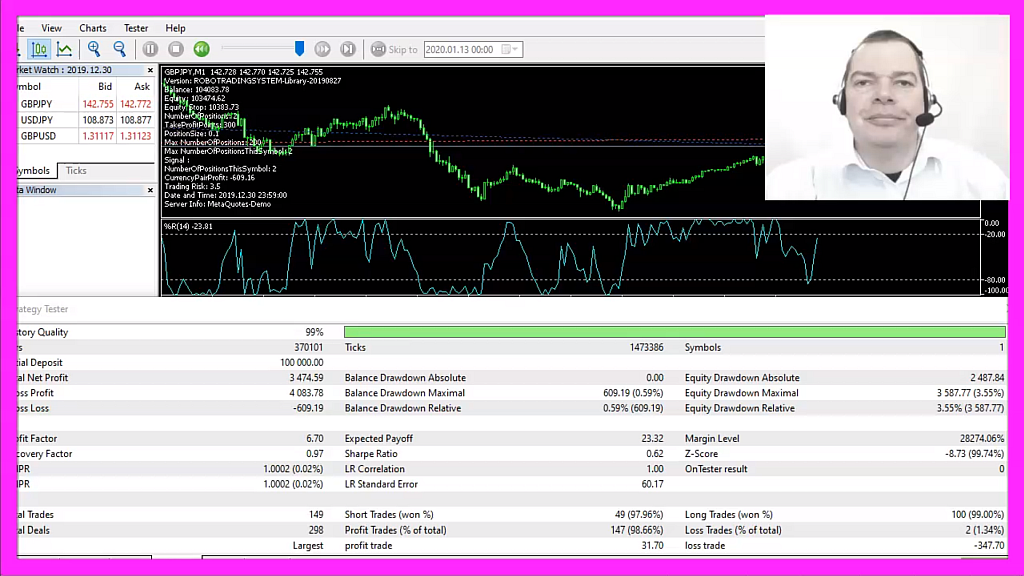 Download "FREE EXPERT ADVISOR - ALGORITHMIC TRADING SYSTEM - WILLIAMS PERCENT RANGE FOR METATRADER5 DEMO ACCOUNTS"

ALGORITHMICTRADINGSYSTEM20200106-Demo-WPR.zip – Downloaded 778 times – 92.99 KB
I think we have a strange way to deal with risk.
The worst thing that can happen on my account is a total loss of money and I am able to adjust the account size to whatever I want.
When we moved to another city, I had to drive 3 hours each day to do my former main job.
I had 9 hours in the office, and one and a half hour in the car, each morning and each evening.
200 Kilometers commute each day is risky.
From time to time I almost fell asleep.
I have seen some bad accidents, I had some hard winters.
And I had some dangerous situations that could have ended very seriously.
Nobody offered me any profits to take that risk.
Actually I wasn't really aware that it was a risk.
But today I do everything from my home office and now I know, that I have been very lucky.
I did that commute thing for over 10 years and I never had a serious accident.
And actually it isn't my achievement.
I think that I am a safe driver, but anybody on the other side of the road could have easily caused an accident at any given time.
That is a much higher risk than losing a few hundred dollars on a small account, but one situation can cost you good nights sleep while you might not even notice the risk of your daily commute.
You can download the free version for the Algorithmic Trading System below the video on our website  AlgorithmicTradingSystem.com
It will work with original Metatrader 5 demo accounts.
If you are interested to learn more, or if you are interested to trade this system on a real account, make sure to become a starter member for just one dollar.