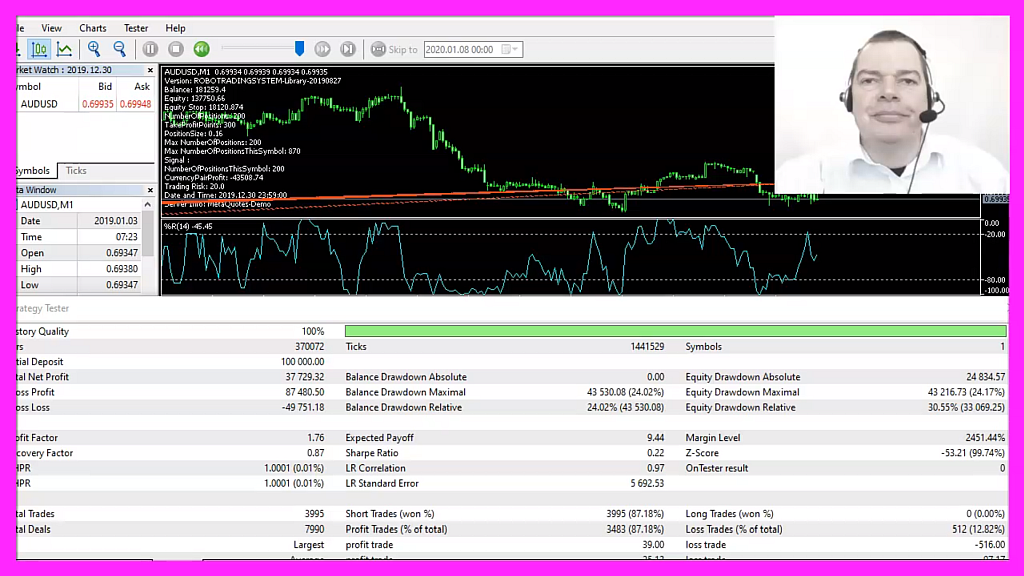 Download "FREE EXPERT ADVISOR - ALGORITHMIC TRADING SYSTEM - WILLIAMS PERCENT RANGE FOR METATRADER5 DEMO ACCOUNTS"

ALGORITHMICTRADINGSYSTEM20200106-Demo-WPR.zip – Downloaded 778 times – 92.99 KB
What is the difference between a good and a bad trading system?
I think the answer is different for everybody.
No, I don't think that there are people who would like to lose money.
But I think that everybody has different circumstances to consider.
First there is the capitalization.
Some people have a lot of money, others have a small account.
The next thing is the risk.
Some people go all in while others are risk averse.
And psychology is also an important factor.
One trader might sleep well after a loss while the other one loses sleep.
On top of that we all use different brokers, live in different countries with different laws and restrictions.
While one trader needs to trade after a day job, other people might trade full time.
So I think the best solution is the one that fits like a custom tailored suit.
You need to find out what works for you.
Probably you drive a different car than me.
So find out what works for you  – before you decide to risk all you money because somebody told you what to do.
It takes some time to do all the testing, but I think in the end it is worth every minute.
You can download the free version for the Algorithmic Trading System below the video on our website  AlgorithmicTradingSystem.com
It will work with original Metatrader 5 demo accounts.
If you are interested to learn more, or if you are interested to trade this system on a real account, make sure to become a starter member for just one dollar.