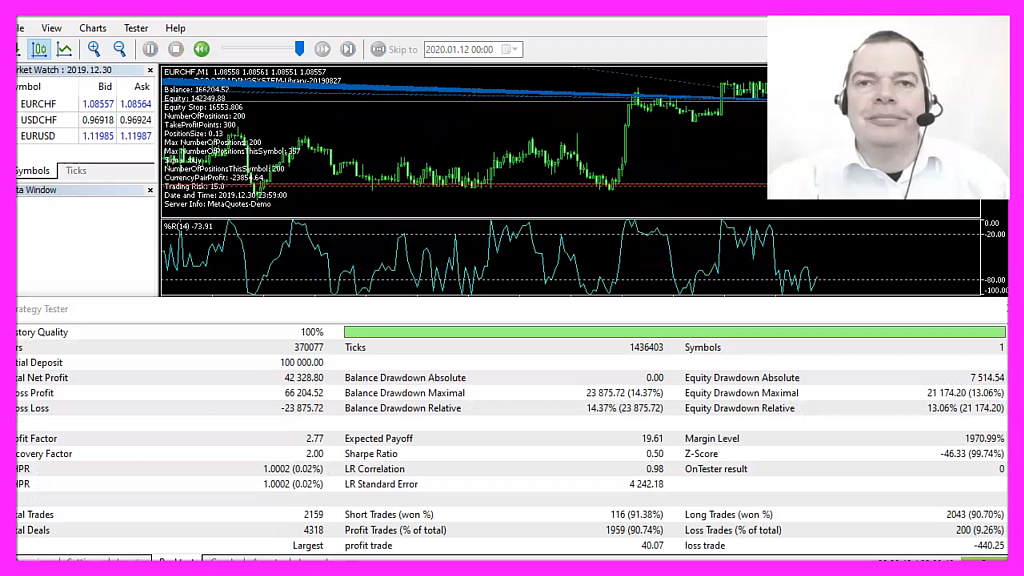 Download "FREE EXPERT ADVISOR - ALGORITHMIC TRADING SYSTEM - WILLIAMS PERCENT RANGE FOR METATRADER5 DEMO ACCOUNTS"

ALGORITHMICTRADINGSYSTEM20200106-Demo-WPR.zip – Downloaded 778 times – 92.99 KB
The entry signal is the Williams Percent Range oscillator.
If you still think that the right entry is what makes the difference between good and bad trading results, I would like to ask you a question.
How many of your losses are caused by your own stop loss?
For the most people it might be over 80 percent.
A stop loss is something humans use to avoid bigger losses.
But if you want to avoid losses, why are most of your losses caused by the stop settings you use?
I think most of the time the answer is that the stop loss is something that you just picked.
Some people pick the trailing stop loss, other people pick a fixed stop loss.
Some people adjust the stop loss according to some technical rules, other people adjust the stop loss based on their emotions.
If you take a close look on your screen right now, you might notice that this system is using something that is called Equity Stop.
Most people don't even know what that is.
I think that it is the best way to set a stop loss, because it is adjusted based on the account situation.
I no longer use position based stop loss solutions, because of the measured results that I have.
Maybe it is a good solution for you, too?
You can download the free version for the Algorithmic Trading System below the video on our website  AlgorithmicTradingSystem.com
It will work with original Metatrader 5 demo accounts.
If you are interested to learn more, or if you are interested to trade this system on a real account, make sure to become a starter member for just one dollar.