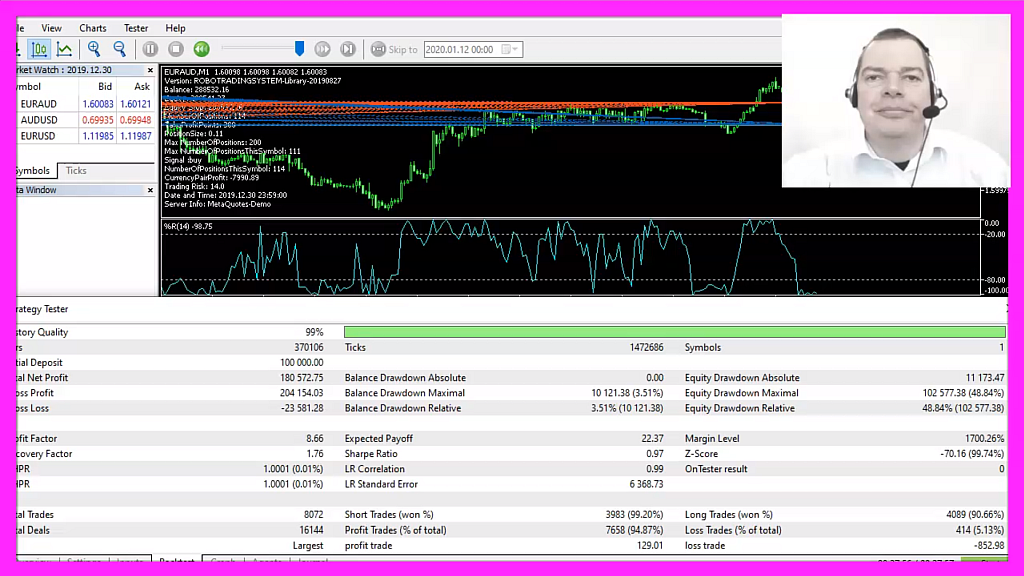 Download "FREE EXPERT ADVISOR - ALGORITHMIC TRADING SYSTEM - WILLIAMS PERCENT RANGE FOR METATRADER5 DEMO ACCOUNTS"

ALGORITHMICTRADINGSYSTEM20200106-Demo-WPR.zip – Downloaded 778 times – 92.99 KB
People say that humans can only deal with 5 to 7 bits of information at the same time.
I would not be able to tell you what I had for lunch last week and even when I have read a book for the third time I wouldn't be able to reproduce it.
If I am lucky, I can remember a few core things about the book.
After a while I might even have problems to remember the name of the title.
But my computer never forgets anything, it can show me files that I have stored there in 2013.
It can reproduce the open and the close prices for all the candles on the chart.
It can calculate and trade entry signals in a split second.
If I would try to do all the calculation in my head, I wouldn't even be able to do a backtest for a single year or a single currency pair.
So I am really happy that something like the Algorithmic Trading System exists.
I think otherwise trading would feel like navigating your car with a compass.
I learned to use software to do the things that I don't want to do, so I can spend more time with the things I enjoy.
You can download the free version for the Algorithmic Trading System below the video on our website  AlgorithmicTradingSystem.com
It will work with original Metatrader 5 demo accounts.
If you are interested to learn more, or if you are interested to trade this system on a real account, make sure to become a starter member for just one dollar.