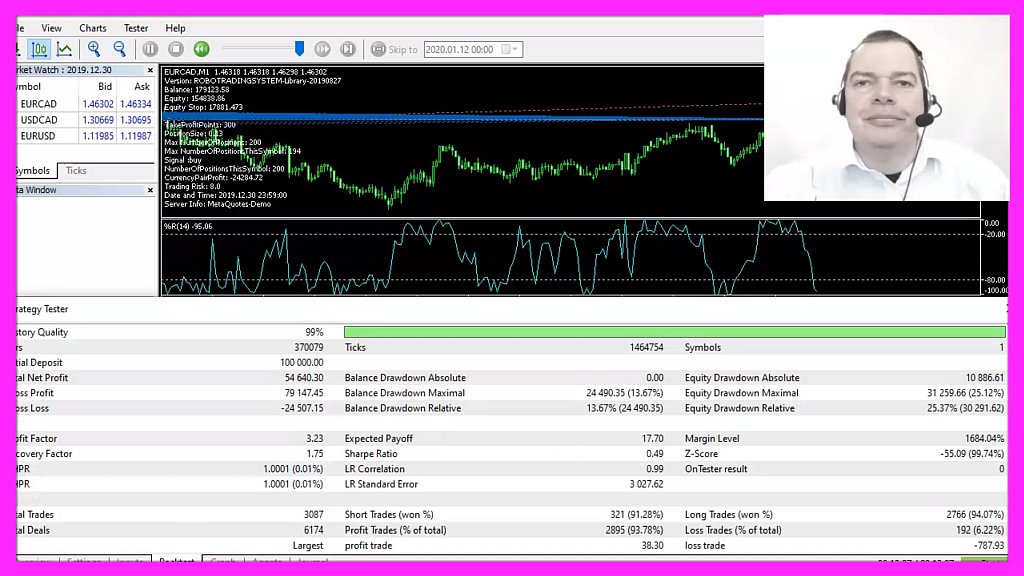 Download "FREE EXPERT ADVISOR - ALGORITHMIC TRADING SYSTEM - WILLIAMS PERCENT RANGE FOR METATRADER5 DEMO ACCOUNTS"

ALGORITHMICTRADINGSYSTEM20200106-Demo-WPR.zip – Downloaded 778 times – 92.99 KB
Have you noticed that results on real accounts are always less profitable?
A few days ago one of our Premium course members wanted to know, why backtesting results for demo accounts often look better.
One of the reasons is that you have trading costs that might not be included in your backtest results.
For example when I have variable spreads on my real account and the strategy tester might have used fixed spreads.
And there are costs that you might not even consider.
For example you might not see swap fees. 
To make them visible, you need to right click into one of the columns in the Metatrader 5 terminal and enable swap fees.
There are other things that go wrong on a consistent basis, for example my network provider will cut the DSL connection once a day.
And from time to time there are power outages or my computer operating system simply needs to be restarted.
Things go wrong in real life and in trading and most of the time that is not helpful to get improved results.
On top of that humans act differently when it comes to real money, that is why I consider computers to be the better traders.
You can download the free version for the Algorithmic Trading System below the video on our website  AlgorithmicTradingSystem.com
It will work with original Metatrader 5 demo accounts.
If you are interested to learn more, or if you are interested to trade this system on a real account, make sure to become a starter member for just one dollar.