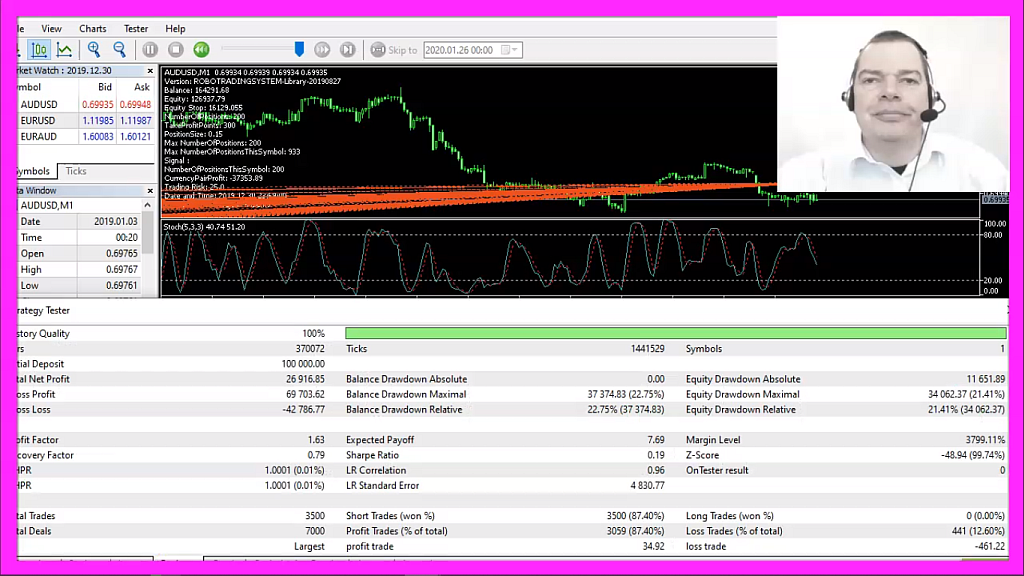 Download "FREE EXPERT ADVISOR - ALGORITHMIC TRADING SYSTEM – STOCHASTIC FOR METATRADER5 DEMO ACCOUNTS"

ALGORITHMICTRADINGSYSTEM20200106-Demo-Stochastic.zip – Downloaded 967 times – 93.60 KB
Seeing is believing and it is not very uncommon that you will see something on your computer screen that doesn't look very well.
For example if you create screenshots from parts of this video, you will feel like you have a visual confirmation that algo trading doesn't work. 
If you just take a look at the first month, you will see a draw down and there is another one in April.
But after 12 months the system is profitable.
That doesn't mean that it feels good in January or April.
These are the phases where we want to close the open positions or shut down the whole system.
Even after half a decade I don't like those times, but by now I have learned that draw downs are unavoidable.
There is simply no way around, so I have to face them.
The only reason that I can survive those times without manipulating my system is that I have hundreds of measured results.
That is  helpful to keep the course – even when you want to quit.
Without automated trading I would have no backtest results and without those results I would probably have much less confidence in algo trading.
You can download the free version for the Algorithmic Trading System below the video on our website  AlgorithmicTradingSystem.com
It will work with original Metatrader 5 demo accounts.
If you are interested to learn more, or if you are interested to trade this system on a real account, make sure to become a starter member for just one dollar.