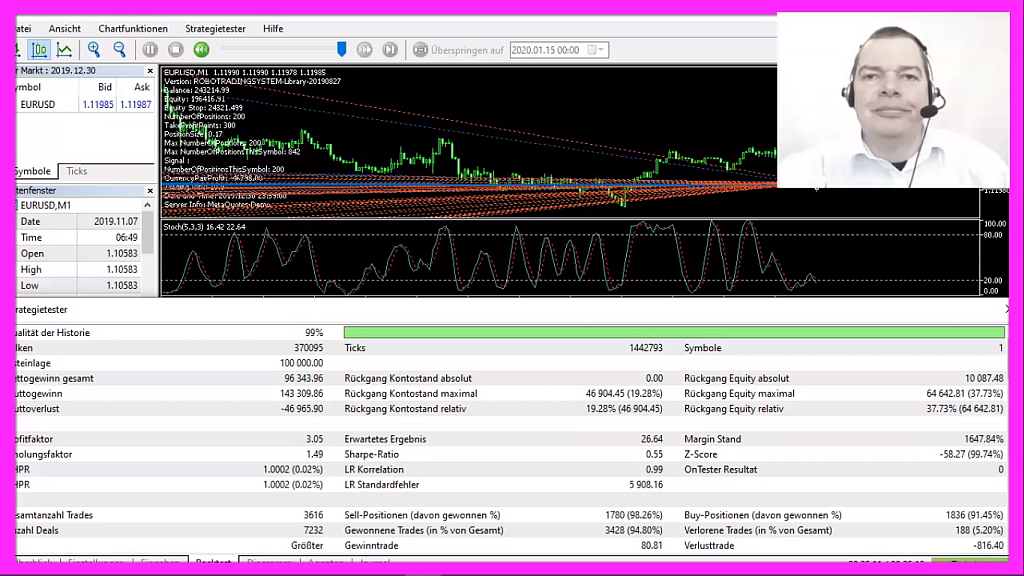 Download "FREE EXPERT ADVISOR - ALGORITHMIC TRADING SYSTEM – STOCHASTIC FOR METATRADER5 DEMO ACCOUNTS"

ALGORITHMICTRADINGSYSTEM20200106-Demo-Stochastic.zip – Downloaded 967 times – 93.60 KB
The Stochastic oscillator is very popular and in this case we use it to generate buy and sell signals, but it is usually used to confirm or filter trend indicators.
An oscillator is some kind of indicator that is moving up and down on a consistent basis.
In our case we create a lot of signals and as you can see that opens a lot of positions that can be traded automatically.
It is not so much about the entry signal, more important is what happens afterwards.
The Algorithmic Trading System is managing things like the current profit, the number of current and allowed positions and some other settings.
For humans it would be very hard to do that, it would at least take several dozen times longer.
If you are used to only one position at a time, you might ask yourself why the algo system is able to open and handle so many positions.
Well, actually it is doing a lot of calculations in a fraction of the time a human would need.
These calculations produce results and with the defined rules the system can decide what to do next.
You can download the free version for the Algorithmic Trading System below the video on our website  AlgorithmicTradingSystem.com
It will work with original Metatrader 5 demo accounts.
If you are interested to learn more, or if you are interested to trade this system on a real account, make sure to become a starter member for just one dollar.