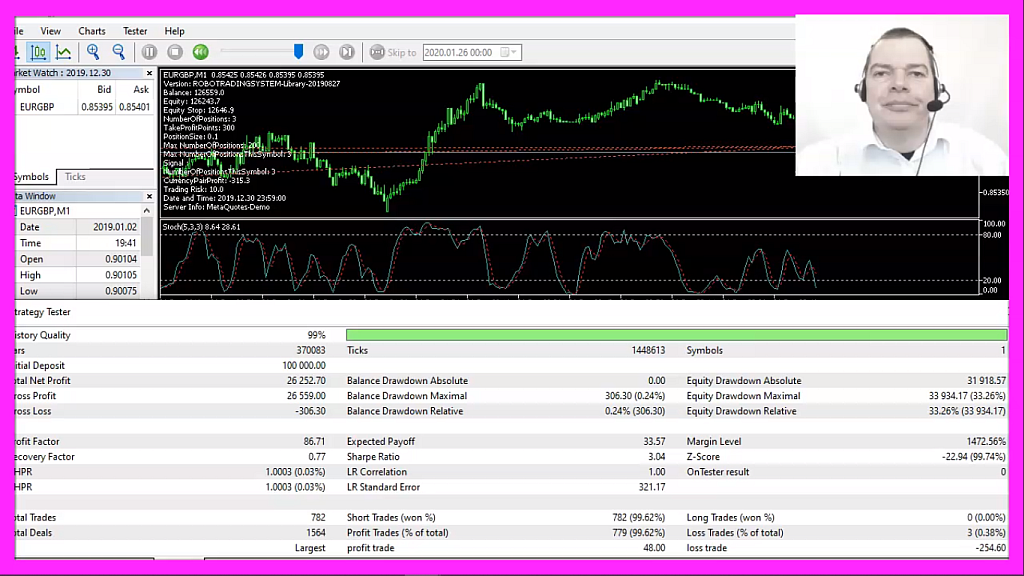 Download "FREE EXPERT ADVISOR - ALGORITHMIC TRADING SYSTEM – STOCHASTIC FOR METATRADER5 DEMO ACCOUNTS"

ALGORITHMICTRADINGSYSTEM20200106-Demo-Stochastic.zip – Downloaded 967 times – 93.60 KB
Most traders have a fear problem.
But why? 
Actually it is not so hard to avoid fear.
There are a few obvious things that you can do.
First of all, you can use a demo account to get started.
You will not lose any money on a demo account, therefore you don't have to deal with fear.
The next obvious thing you can do is to use small position sizes.
Nobody will lose any sleep because of 17 Cent, so you don't have to be afraid.
And the third thing is to use a small account size and grow with your trading system.
If you select an account size that is not big enough to be dangerous, a total loss can not ruin your life style.
But I think that most traders try to go all in right away, because that is what brokers want.
Your broker will probably do a lot of things to encourage you to trade as much as possible in a very short time.
Your broker will make money for each trade that you make, it doesn't matter if it is a profit or a loss.
But if you stick to these basic rules, you will lose no sleep.
You can download the free version for the Algorithmic Trading System below the video on our website  AlgorithmicTradingSystem.com
It will work with original Metatrader 5 demo accounts.
If you are interested to learn more, or if you are interested to trade this system on a real account, make sure to become a starter member for just one dollar.