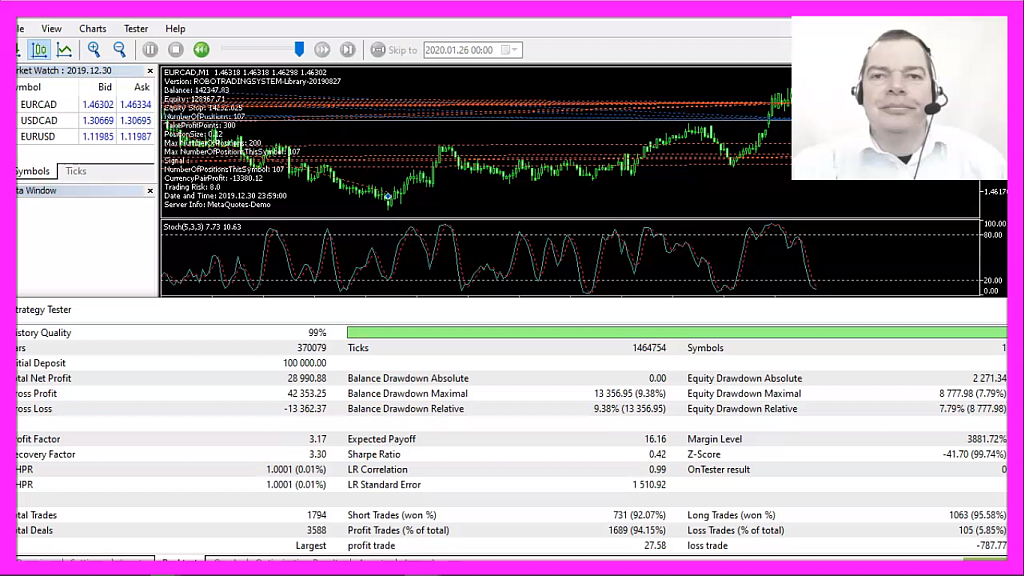 Download "FREE EXPERT ADVISOR - ALGORITHMIC TRADING SYSTEM – STOCHASTIC FOR METATRADER5 DEMO ACCOUNTS"

ALGORITHMICTRADINGSYSTEM20200106-Demo-Stochastic.zip – Downloaded 967 times – 93.60 KB
Good profits are what we want, but there is another thing that is even more important.
We want to make those good profits with as little risk as possible.
A high risk seems to be a good way to make a lot of money, but actually it is rather a good way to produce bad feelings.
You might like the idea to make a few thousand dollars in a very short time, but you would probably not want to lose that money.
So one of the parameters that no computer can calculate is your own mental risk tolerance.
You need to grow with your account and your system, but I always encourage the Premium course members to start with a low risk.
Once everything works as desired, it is no problem to increase the risk setting at any given time.
That might feel like you are losing money when the profits are not as high as you wish.
But that also will help you when you make some unavoidable losses.
Because only if you trust your Algorithmic Trading System you will be able to let it run when the next draw down appears on your chart.
And that will happen – sooner or later.
You can download the free version for the Algorithmic Trading System below the video on our website  AlgorithmicTradingSystem.com
It will work with original Metatrader 5 demo accounts.
If you are interested to learn more, or if you are interested to trade this system on a real account, make sure to become a starter member for just one dollar.