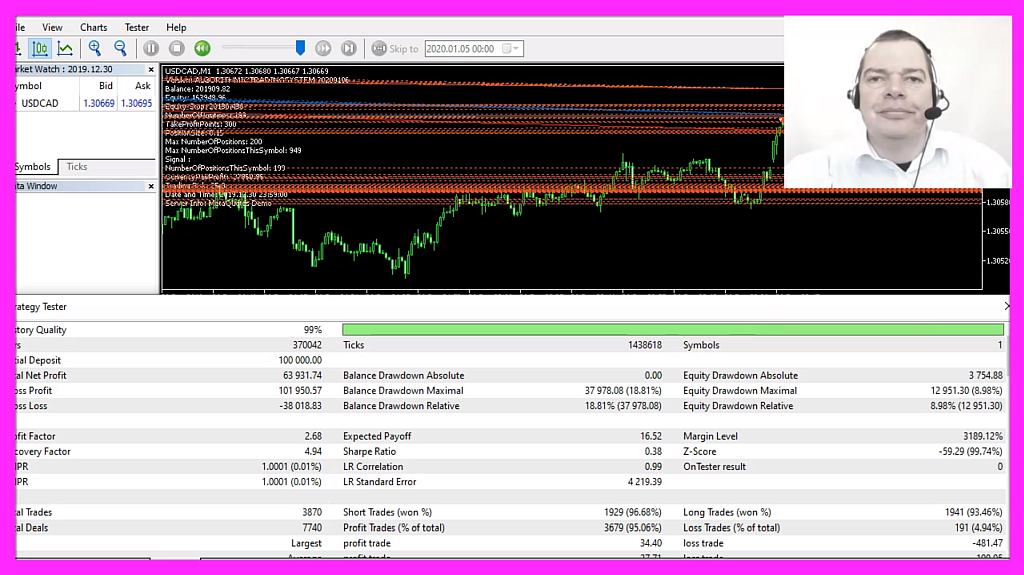 Download "FREE EXPERT ADVISOR - ALGORITHMIC TRADING SYSTEM - SMA 1000 FOR METATRADER5 DEMO ACCOUNTS"

ALGORITHMICTRADINGSYSTEM20200106-Demo-SMA1000.zip – Downloaded 381 times – 94.11 KB
Some people think that algorithmic trading systems should always work at any time with any currency pair and any entry setting.
But this is not true. You need to consider a few things and no setup is like the other one.
For example you need some liquidity. 
Think of your commute, it might be the same route each day, but you might have different situations depending on the traffic.
In the winter you maybe need more time to reach your goal. 
And sometimes you will probably have almost no traffic, depending on the time.
For algorithmic trading it is the same, you need to find a way to deal with different conditions.
You need to adjust a system for good and bad weather, as good as possible.
But that doesn't mean that it will always work under all conditions or for all currency pairs.
You would not use a Ferrari for an offroad trip and you wouldn't try to break a speed record with a Landrover.
There is no one size fits all car, tool or system, so pick your setup wisely and do a lot of testing.
You can download the free version for the Algorithmic Trading System below the video on our website  AlgorithmicTradingSystem.com
It will work with original Metatrader 5 demo accounts.
If you are interested to learn more, or if you are interested to trade this system on a real account, make sure to become a starter member for just one dollar.