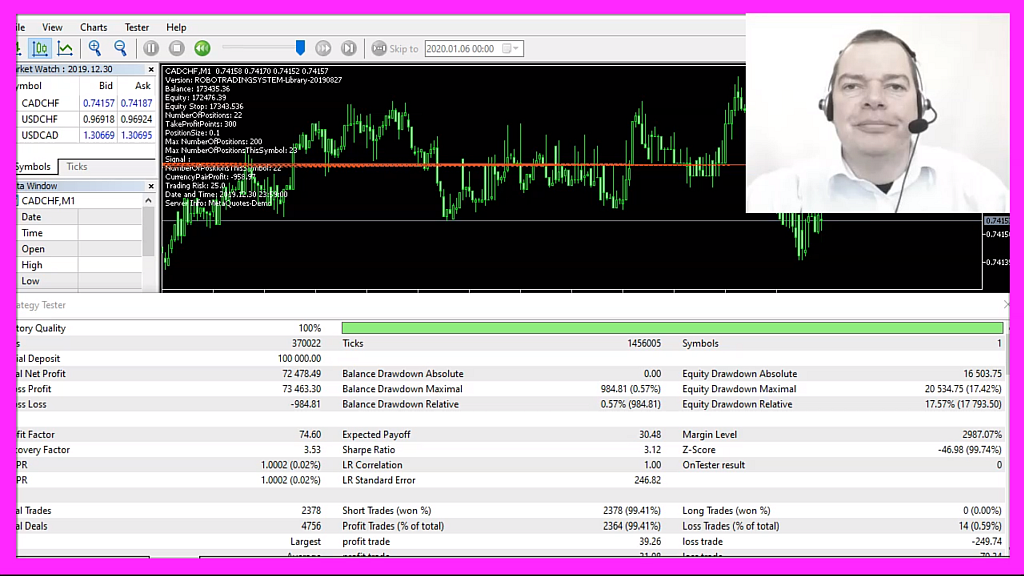 Download "FREE EXPERT ADVISOR - ALGORITHMIC TRADING SYSTEM - SMA 1000 FOR METATRADER5 DEMO ACCOUNTS"

ALGORITHMICTRADINGSYSTEM20200106-Demo-SMA1000.zip – Downloaded 381 times – 94.11 KB
To create meaningful results you need to do backtests in a way that make it comparable.
For example I do all my backtests on charts with a one minute time frame.
And I always do backtests for a complete year.
That makes it possible to find out, if something is really better than other solutions.
Because after a while you might get confused otherwise.
Was the last improvement really an improvement, or does it just look better?
Charts, candle sizes and everything that is visible is just a relative interpretation of the numbers.
What looks like a giant candle on one time frame might be insignificant on a chart that uses another time frame.
I stopped looking at charts a while ago and I do not longer hope or fear if a single trade becomes a profit or a loss.
What counts is the overall result.
Not for only  one currency pair, but for several currency pairs.
Not for only one year, but for several years.
If something is better, we should be able to measure it.
So I would suggest to pick one time frame and stick with it to make your results comparable.
You can download the free version for the Algorithmic Trading System below the video on our website  AlgorithmicTradingSystem.com
It will work with original Metatrader 5 demo accounts.
If you are interested to learn more, or if you are interested to trade this system on a real account, make sure to become a starter member for just one dollar.