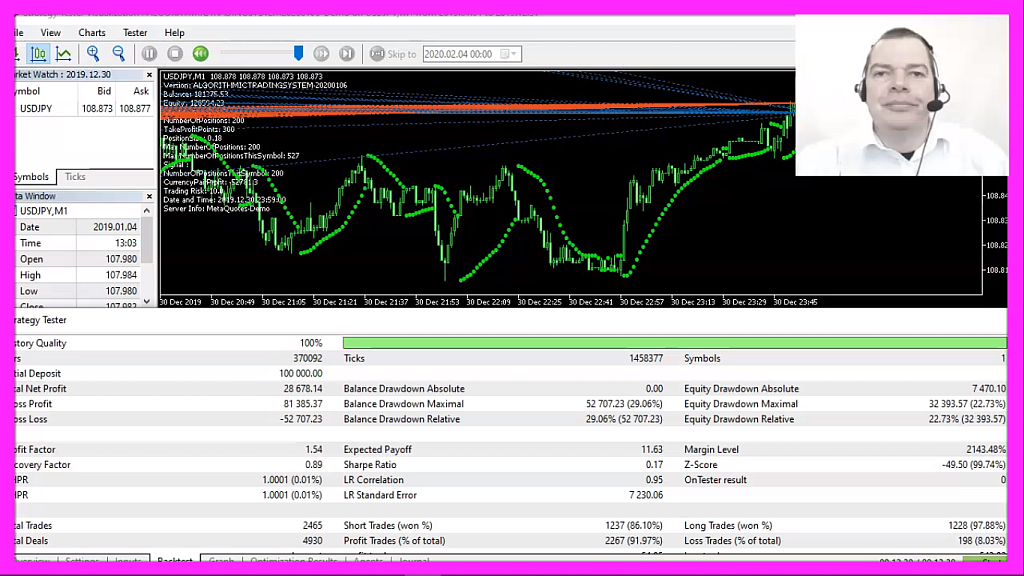 Download "FREE EXPERT ADVISOR - ALGORITHMIC TRADING SYSTEM – PARABOLIC SAR FOR METATRADER5 DEMO ACCOUNTS"

ALGORITHMICTRADINGSYSTEM20200106-Demo-SAR.zip – Downloaded 414 times – 93.56 KB
In videos like this one you might notice that an Algorithmic Trading System is able to trade several positions at the same time.
And if you take a closer look, you might notice that these positions might be buy and sell trades, sometimes a dozen positions or more in the same range.
If you have never used an Algorithmic Trading System before, you might wonder why it does that.
Well, humans are restricted, we can only deal with 4 to 7 pieces of information at the same time.
But your computer has no problem to deal with dozens or even hundreds of pieces of information in a split second.
As humans we try to focus on what we can handle, so most traders might open only one position, maybe two.
But whenever the computer notices an entry signal, it will open a position in that direction.
In our case this will only happen if the number of open positions is below the number of allowed positions.
The algorithm will calculate these numbers whenever the price changes. 
Humans couldn't do that and that is why I consider my computer to be the better trader.
You can download the free version for the Algorithmic Trading System below the video on our website  AlgorithmicTradingSystem.com
It will work with original Metatrader 5 demo accounts.
If you are interested to learn more, or if you are interested to trade this system on a real account, make sure to become a starter member for just one dollar.