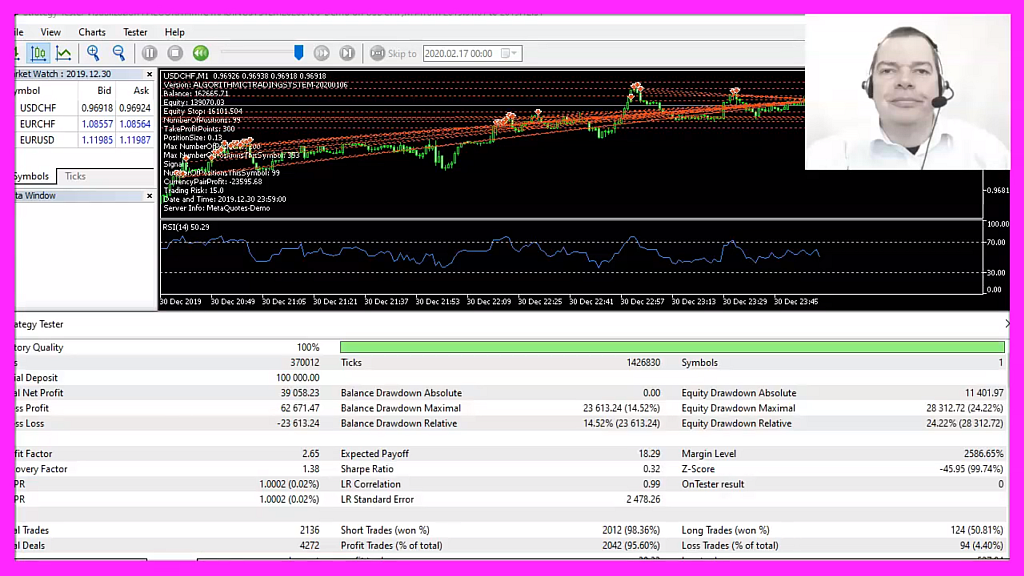 Download "FREE EXPERT ADVISOR - ALGORITHMIC TRADING SYSTEM – RSI RELATIVE STRENGTH INDEX FOR METATRADER5 DEMO ACCOUNTS"

ALGORITHMICTRADINGSYSTEM20200106-Demo-RSI.zip – Downloaded 661 times – 94.40 KB
Backtest results are just a proof of concept.
They are helpful to find out if something generally works.
But a backtest is different from real time trading in many ways.
The first thing is, that a backtest will not emotionally touch you.
You can do it with a demo account and demo money and that will not hurt you at all.
Real time trading is much harder, because now it is real money.
And it is your own money.
A second difference is that you can do a backtest in a few minutes.
It is totally different to watch a 20 second drawdown on a demo account or a drawdown that can last for weeks, especially on a real account.
The third difference is that a backtest usually has no problems with outages.
On a real account the network connection and electrical power outages can cause problems that can't be reproduced in a backtest.
On top of that your broker might change the account conditions.
I have had one broker who only allowed position closing when the Brexit votum took place. 
You couldn't open new positions as he simply didn't take the orders for a few currency pairs.
So backtests are not the real world experience, but they are helpful to tune your system.
You can download the free version for the Algorithmic Trading System below the video on our website  AlgorithmicTradingSystem.com
It will work with original Metatrader 5 demo accounts.
If you are interested to learn more, or if you are interested to trade this system on a real account, make sure to become a starter member for just one dollar.