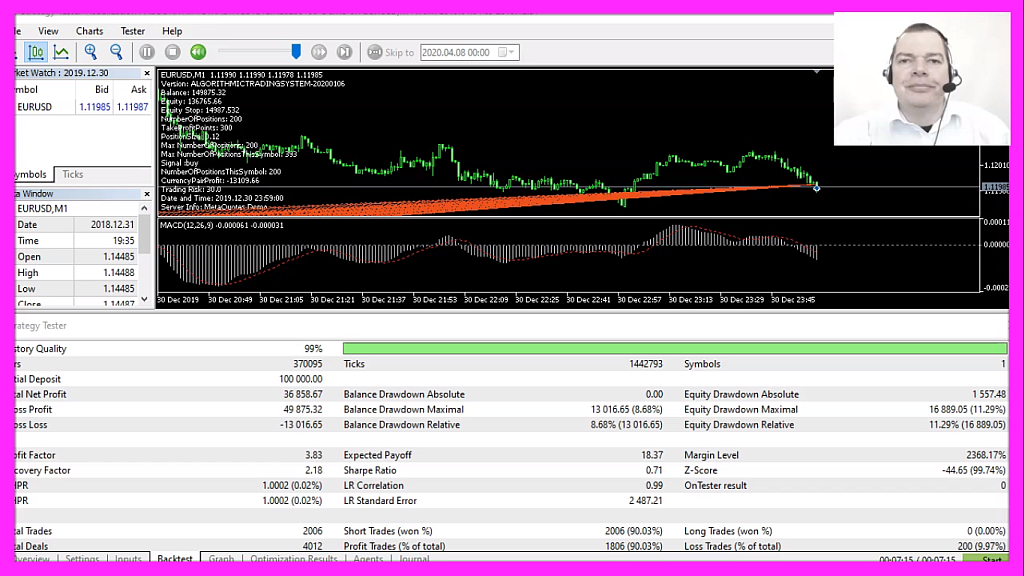 Download "FREE EXPERT ADVISOR - ALGORITHMIC TRADING SYSTEM – MACD FOR METATRADER5 DEMO ACCOUNTS"

ALGORITHMICTRADINGSYSTEM20200106-DemoMACD.zip – Downloaded 269 times – 93.17 KB
Some indicators are more popular than others.
The MACD oscillator is used by a lot of people, but most of the time they will use it to filter trend signals.
Oscillators are shown in a separate window below the candles and they can produce buy and sell signals.
Actually this is not what they are for, but it doesn't really matter, because as you can see it works very well.
The reason is, that not the entry signal is the reason why your system is profitabble.
Other parts of a system are more important.
But entry signals are what most people focus on, because entry signals are so attractive.
This is called the halo effect and it is a cognitive bias.
If people or things look good we tend to think that they have to offer other positive qualities.
Like well designed brand phones that cost 3 times of what you would have to pay for a no name phone with the same specs.
An algorithm that can produce buy and sell signals is all that is needed for the entry signal.
Yes, there are some differences between different entry signals, but it is not the one thing that will make or break a successful trading system.
You can download the free version for the Algorithmic Trading System below the video on our website AlgorithmicTradingSystem.com
It will work with original Metatrader 5 demo accounts.
If you are interested to learn more, or if you are interested to trade this system on a real account, make sure to become a starter member for just one dollar.