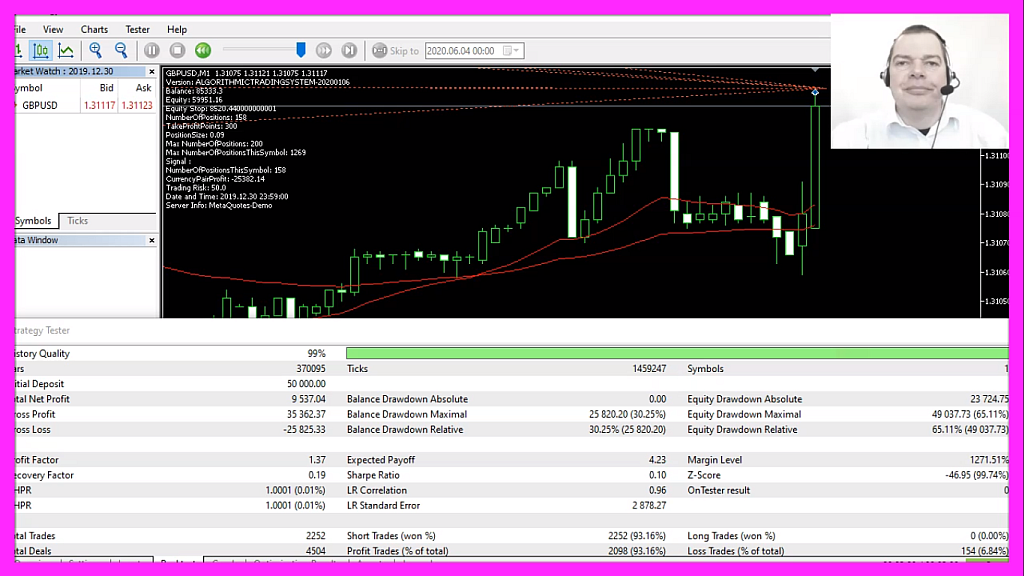 Download "FREE EXPERT ADVISOR - ALGORITHMIC TRADING SYSTEM – EXPONENTIAL MOVING AVERAGE CROSSOVER 50 20 FOR METATRADER5 DEMO ACCOUNTS"

ALGORITHMICTRADINGSYSTEM20200106-Demo-EMA-50-20Crossover.zip – Downloaded 366 times – 93.94 KB
A high risk setting is not always a good idea.
But from time to time you will see good results.
That requires that you are able to stand the bad times that will occur from time to time.
A big drawdown is to be expected with a big risk setting.
That doesn't mean that there are no profits, but it means that you will have to face draw downs that seem to be eternal.
Depending on your account size you should consider to start with very low risk settings.
It is no problem to increase the risk later, but I think every trader needs to grow with his account.
For me the emotional involvement is still the biggest problem, even when it comes to automated trading.
Most of the time I actually feel bad. 
I feel bad when I make small profits, because I think I could have made more.
I feel bad when nothing happens, because this is too boring.
And I feel bad when I make losses, because now I want to make my money back.
Can you relate to that?
You can download the free version for the Algorithmic Trading System below the video on our website  AlgorithmicTradingSystem.com
It will work with original Metatrader 5 demo accounts.
If you are interested to learn more, or if you are interested to trade this system on a real account, make sure to become a starter member for just one dollar.