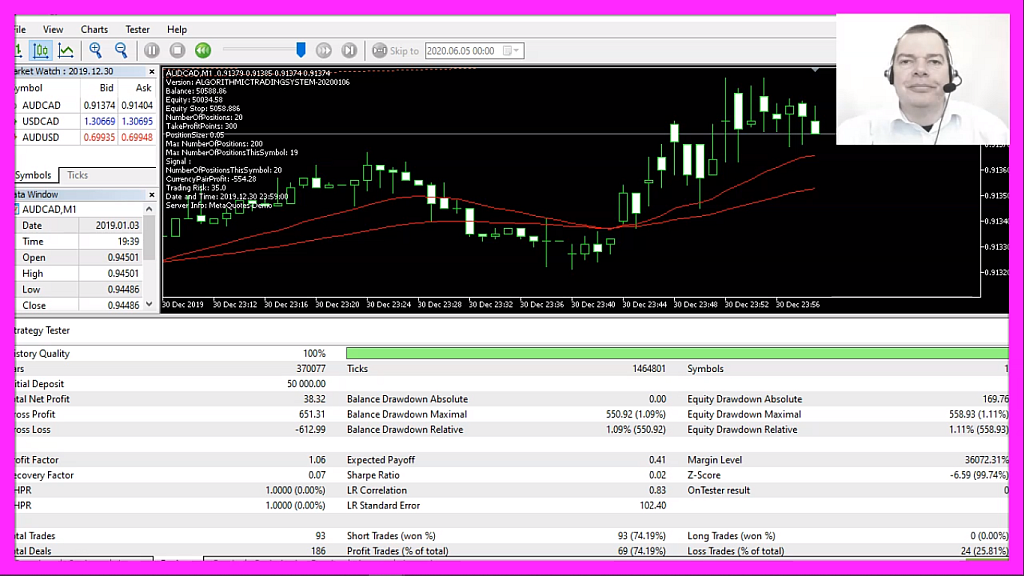 Download "FREE EXPERT ADVISOR - ALGORITHMIC TRADING SYSTEM – EXPONENTIAL MOVING AVERAGE CROSSOVER 50 20 FOR METATRADER5 DEMO ACCOUNTS"

ALGORITHMICTRADINGSYSTEM20200106-Demo-EMA-50-20Crossover.zip – Downloaded 366 times – 93.94 KB
This is one of the less shiny examples where we don't see a lot of profit.
From time to time this is how it is, it is just not a very good outcome.
In these situations most people tend to ask themselves if this all is worth it.
And that is an intelligent question, because you need to come up with all the trading capital.
You need to take all the risk and therefore you should see a return of investment.
And it is no problem to make false decisions based on good or bad outcomes.
This is called heuristics. It is an abbreviation for humans to save brain calories while making decisions.
But if you decide based on a small amount of information, the chance is high that this information is not completely accurate.
For example, would you be able to decide what currency pair to trade if you just know the current price?
Usually humans need to have relational information.
If I have some trusted information that I already know, I am able to compare that with the new piece of information. 
That is also what algorithms do.
You can download the free version for the Algorithmic Trading System below the video on our website  AlgorithmicTradingSystem.com
It will work with original Metatrader 5 demo accounts.
If you are interested to learn more, or if you are interested to trade this system on a real account, make sure to become a starter member for just one dollar.