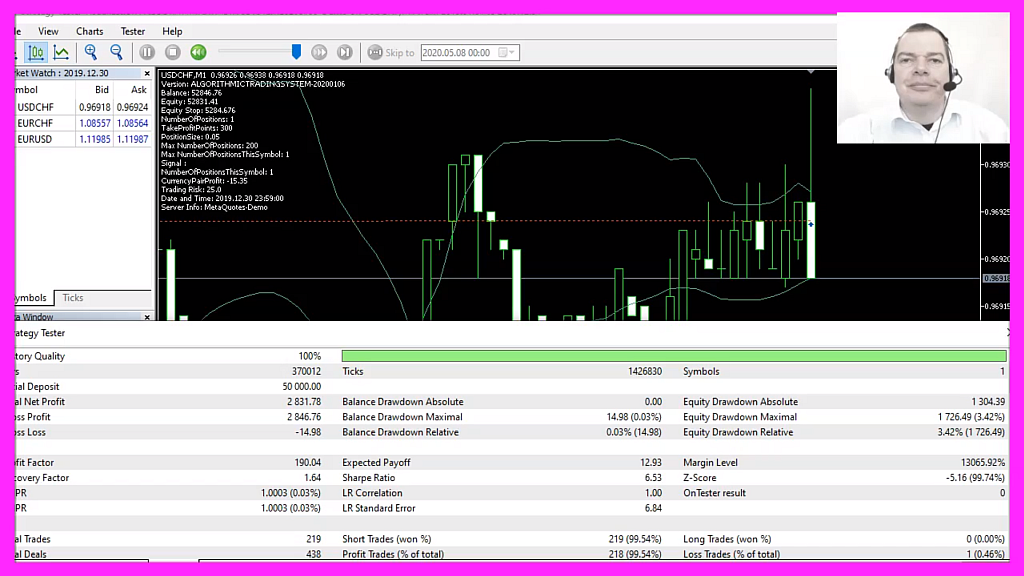 Download "FREE EXPERT ADVISOR - ALGORITHMIC TRADING SYSTEM – BOLLINGER BANDS FOR METATRADER5 DEMO ACCOUNTS"

ALGORITHMICTRADINGSYSTEM20200106-Demo-Bollinger.zip – Downloaded 291 times – 95.16 KB
In this video we are going to trade the currency pair USDCHF for the whole year 2019 with an algo trading system that can be downloaded on the website AlgorithmicTradingSystem.com. 
The current risk setting is 25.
The entry signal is the Bollinger Bands indicator.
We are using an original Metaquotes Metatrader 5 demo account as you can create one with a few mouse clicks in Metatrader to compare it with your own results.
Excitement is not a good reason for a trading system.
Actually I like things to go up slow and steady.
A wild ride with high volatility is nothing that I enjoy.
If you watch this video, you will see that there is a long period of time where balance and equity go up like on rails.
This is what I consider to be exciting, because this is actually the very best way to make a profit without a huge risk.
Yes, it might be possible to make a much bigger profit with something that produces larger drawdowns, but there is one advantage that makes a stable system so interesting.
And that is the fact that you can trade more positions with the same capital, because the capital that you don't need for margin requirements can be used to trade other currency pairs.
Another advantage of a small and steady growth is that you can close your open positions once balance and equity are almost equal.
If you want to withdraw some money, you likely wouldn't do that in the middle of a drawdown, would you?
You can download the free version for the Algorithmic Trading System below the video on our website  AlgorithmicTradingSystem.com
It will work with original Metatrader 5 demo accounts.
If you are interested to learn more, or if you are interested to trade this system on a real account, make sure to become a starter member for just one dollar.