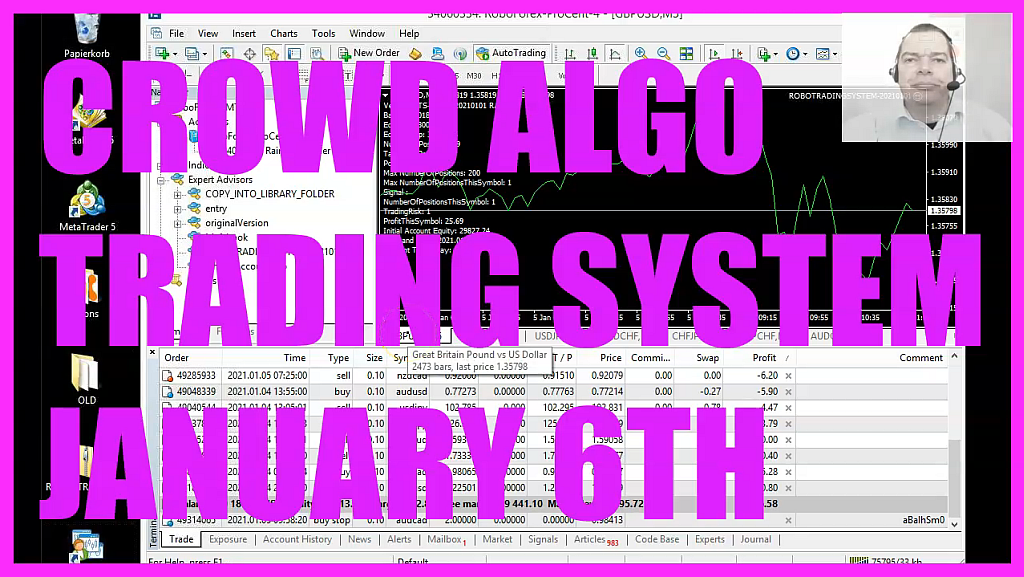 Download "Metatrader4 Original Setup.exe"

roboforex4setup.exe – Downloaded 420 times –

Download "CROWD ALGO TRADING SYSTEM DEMO - WORKS WITH ORIGINAL METAQUOTES MT4 ACCOUNTS"

MQL4CrowdAlgoTradingSystem.zip – Downloaded 437 times – 32.01 KB

Download "CROWD ALGO TRADING - CURRENT STATISTICS"

statement.html – Downloaded 380 times –
Hello. In this video, I would like to talk about a process, how to publish a new live account that I've created on the 1st of January, 2021. This is an MQL4 version for MetaTrader 4. It's actually a backport of the robot trading system that we create and code in the MQL5 premium course. And I would like to show you how I have been able to publish the whole account on Myfxbook. I need to use some screenshots here because I have already done the whole process and I need to re-record a few videos and explain it to other people.
So here are the screenshots. This is the system this morning at 9:30. It says statement uploaded successfully. That is done by an expert advisor that is provided by Myfxbook. I needed to download and install it and provide my credentials. Once that was successful, I was able to see the first trades here.
This is my Myfxbook page for the system. And it says that the trading privileges are not verified. That isn't necessary, it's optional, but I wanted to do that. Because if you want to publish public status updates you need to be verified. And to do that you can go to your account settings. Inside of MyfXbook there is this verification part and they provide an authorization password. I needed to copy the password, go to my MetaTrader installation and create a new pending order.
In this case, I did a buy stop. They recommend that you use a price level that is very high, so it will never be reached. What I didn't know is that they are checking if the pending order still exists afterwards. And if it doesn't, they will remove the verification. I have that happened for other accounts. So I will spend the rest of the day reverify other accounts. And you need to put the authorization password here into the comment line, wait for a few minutes, and then you should see this text, account authorized successfully. I have added a little description here. And now I was able to set all the accounts settings to public. You can pick which ones you want to publish. I have published everything.
And I could see that my account now was verified twice. They actually have two ways to verify it. The first way is you need to provide the investor password so they can access your account directly. And the second setting is what you have seen right now, the authorization password. And only if both are successful, you can publish an HTML statement. I have done that.
And when you go to the website, algorithmictradingsystem.com, you will see this link here. And if you click it, you will be taken to my live real account statements. This is real money. It's a so-called cent account from RoboForex. I have started it on January, the 1st, 2021 to do a little live trading experiment with a lot of people. And if you are interested to see the account stats, and if everything works out, you can just click on this little link here and you will see each and every detail about the system. So far, we are at about 1% profit. But this is just day two, as the markets opened on January the 4th.
And in this little video, you have learned how to verify and publish your own account settings on Myfxbook. Thank you for listening. If you have any questions or suggestions about the system set up, please let me know.