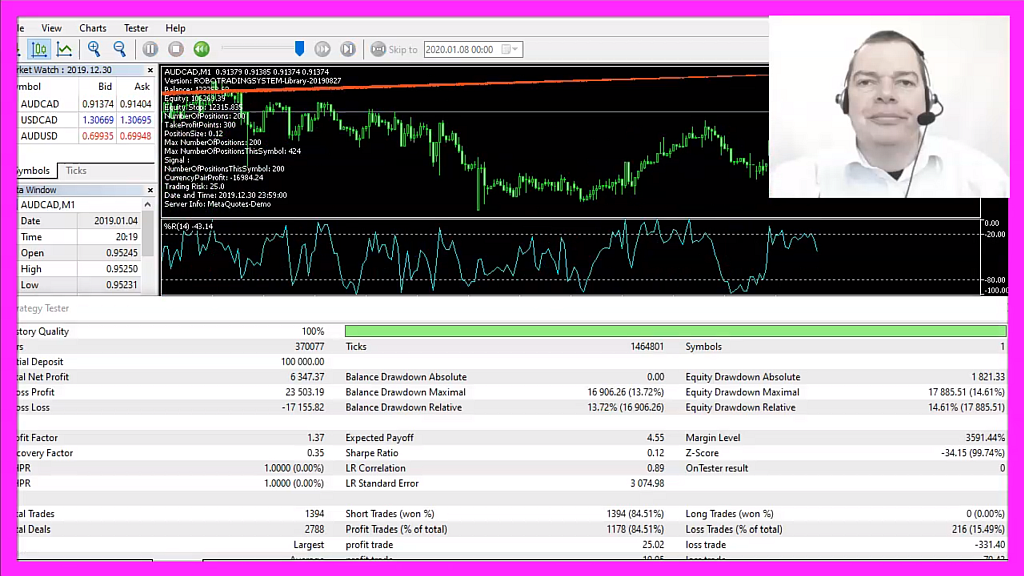 Download "FREE EXPERT ADVISOR - ALGORITHMIC TRADING SYSTEM - WILLIAMS PERCENT RANGE FOR METATRADER5 DEMO ACCOUNTS"

ALGORITHMICTRADINGSYSTEM20200106-Demo-WPR.zip – Downloaded 778 times – 92.99 KB
Believe it or not, I don't think that trading is easy.
I think it is easy to understand, but it isn't easy to do.
There once was a saying that every stupid boy can stomp on a bug, but not all the experts in the world can create one.
And not every backtest will produce a profit. 
Actually you will see a lot of losses.
This backtest result is not very good, because you need to set a date when the test period is over.
And when that date is in the middle of a draw down, the strategy tester will just stop to trade.
There is no way around, you will see this often if you use Algorithmic Trading Systems like this one.
But that doesn't mean that you need to do that in real life.
You can decide if you want to close a trade.
You can decide if you want to shut down the whole system.
And you don't have to do that on December the 31st.
If you take a closer look, you might notice that there are several month where the balance and the equity curve are not so far away from each other.
That is the right time to close a system.
You want to close it in a profitable time span when the equity is almost equal to the balance.
If you can do that, you can greatly improve your chances to make a profit.
You can download the free version for the Algorithmic Trading System below the video on our website  AlgorithmicTradingSystem.com
It will work with original Metatrader 5 demo accounts.
If you are interested to learn more, or if you are interested to trade this system on a real account, make sure to become a starter member for just one dollar.