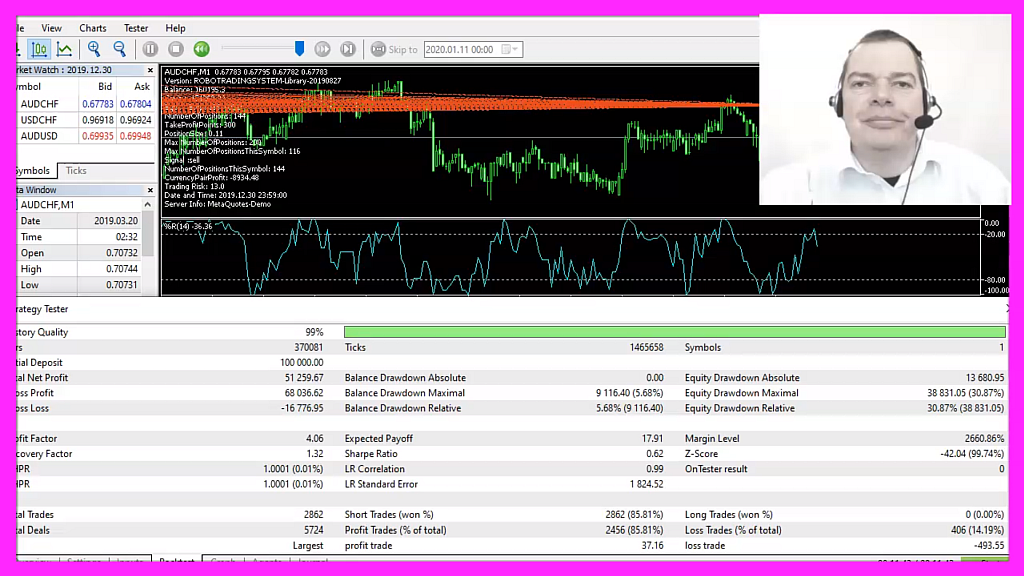 Download "FREE EXPERT ADVISOR - ALGORITHMIC TRADING SYSTEM - WILLIAMS PERCENT RANGE FOR METATRADER5 DEMO ACCOUNTS"

ALGORITHMICTRADINGSYSTEM20200106-Demo-WPR.zip – Downloaded 778 times – 92.99 KB
Draw downs are unavoidable and they cause emotional pain.
I have traded algorithmic trading systems for over half a decade and I still don't like to see draw downs.
Not even on a demo account.
I always have the feeling that I have to improve the system, because most draw downs are also shown in a way that doesn't make it better.
Bad draw downs look like an unavoidable crash and I think this is one of the main reasons why people close all trades at the worst possible time.
And I think that is also the reason why brokers make so much money.
It is easy to trade when everything works out as desired and all you see is profits.
But sooner or later there will be a crisis and suddenly trading doesn't feel so good.
Suddenly all you want to do is to get out.
You might ask yourself what you have seen before and why you thought you should trade this or that entry signal.
You might think it is all your fault, that you have done something wrong and that you need to improve something.
Actually everything with your system might be fine, but the only way to get the confidence that is needed in such a crisis is to do a lot of tests.
You can download the free version for the Algorithmic Trading System below the video on our website  AlgorithmicTradingSystem.com
It will work with original Metatrader 5 demo accounts.
If you are interested to learn more, or if you are interested to trade this system on a real account, make sure to become a starter member for just one dollar.