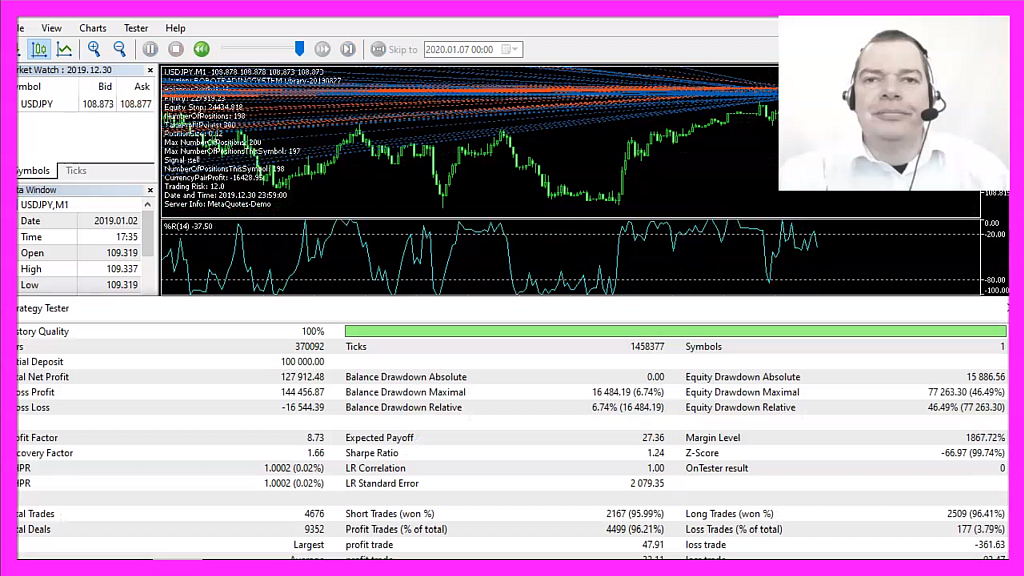 Download "FREE EXPERT ADVISOR - ALGORITHMIC TRADING SYSTEM - WILLIAMS PERCENT RANGE FOR METATRADER5 DEMO ACCOUNTS"

ALGORITHMICTRADINGSYSTEM20200106-Demo-WPR.zip – Downloaded 778 times – 92.99 KB
One of the things that really makes a difference is when you are able to open multiple positions for every Expert Advisor you trade.
One position at a time is not a good leverage.
You can trade the same entry signal on different price levels.
You can trade several entry signals on the same currency pair.
You can trade the same Expert Advisor on up to 22 Forex charts.
So how do you decide, what you are going to trade?
I prefer to trade the Bollinger Bands with standard entry settings.
My first profitable system worked with the Bollinger Bands entry, so probably this is the reason why.
But I have tried a few dozen other entry signals and most of them could do the job.
I think the best way to pick something is to start somewhere.
Whatever you do, you will get a measurable result.
Afterwards you can change something. 
I always change one thing, not several things.
If you change only one thing, you can compare the results.
If the new result is better for several currency pairs, you know you have found something.
Otherwise you change something else and start again.
You can download the free version for the Algorithmic Trading System below the video on our website  AlgorithmicTradingSystem.com
It will work with original Metatrader 5 demo accounts.
If you are interested to learn more, or if you are interested to trade this system on a real account, make sure to become a starter member for just one dollar.