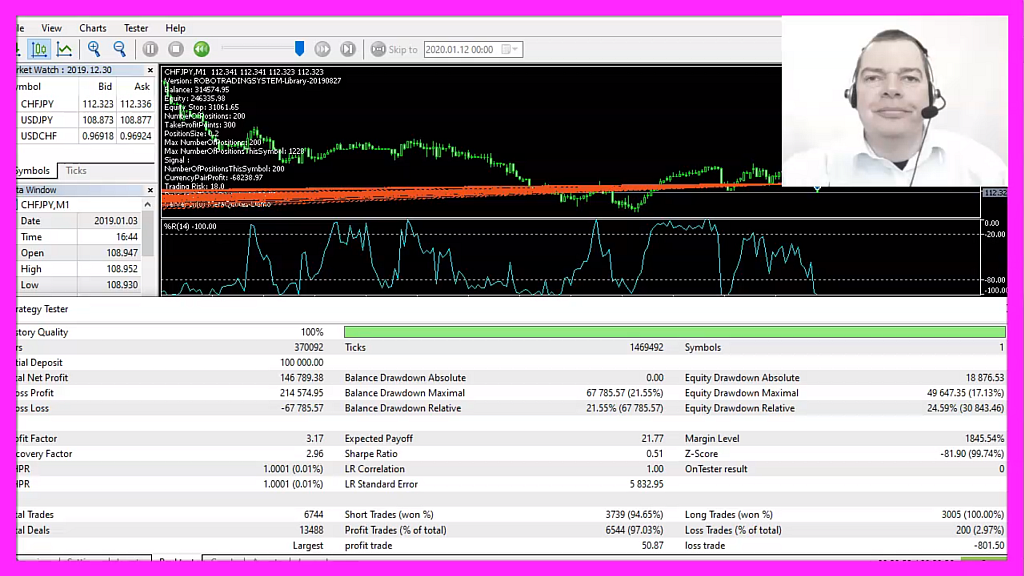 Download "FREE EXPERT ADVISOR - ALGORITHMIC TRADING SYSTEM - WILLIAMS PERCENT RANGE FOR METATRADER5 DEMO ACCOUNTS"

ALGORITHMICTRADINGSYSTEM20200106-Demo-WPR.zip – Downloaded 778 times – 92.99 KB
For good trading results you need to have enough trading capital.
But how much is enough?
In my case I allocate $200 for each micro lot trade on standard accounts.
So a $1000 account would only be allowed to have 5 open microlot positions.
That is not very scalable and therefore I prefer to trade another kind of account type.
This is a so called Cent account.
I have made some videos about Cent accounts, but basically $1000 would be converted to 100000 Cents when you make a deposit.
Those 100000 Cents can then be traded like you account size would be 100000 dollars.
And after some time when you make your withdrawal after a gain of maybe 20 percent, the refund is converted back into dollars.
In our example that would be a refund of $1200.
Cent accounts are a smart way to make small accounts more scalable and that is helpful to improve trading results.
It gets really interesting when you trade the same system on different currency pairs at the same time.
Once you are confident that your system will make profits on the long run, you can always increase your account size at any given time.
You can download the free version for the Algorithmic Trading System below the video on our website  AlgorithmicTradingSystem.com
It will work with original Metatrader 5 demo accounts.
If you are interested to learn more, or if you are interested to trade this system on a real account, make sure to become a starter member for just one dollar.