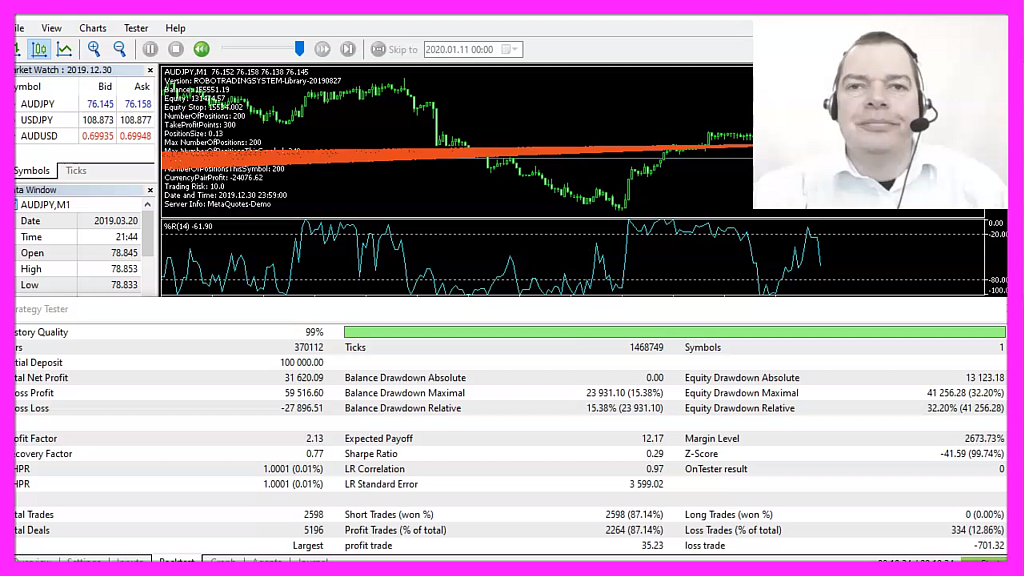 Download "FREE EXPERT ADVISOR - ALGORITHMIC TRADING SYSTEM - WILLIAMS PERCENT RANGE FOR METATRADER5 DEMO ACCOUNTS"

ALGORITHMICTRADINGSYSTEM20200106-Demo-WPR.zip – Downloaded 778 times – 92.99 KB
From time to time people want to know more about that risk setting.
So what is a risk setting and how do we use it in our Algorithmic Trading System?
Well, the best way to describe it is driving a car.
When you want to drive on the road, you need to adjust the speed.
You need to accelerate to enter the highway to a speed that will prevent a collision.
You need to decelerate on a parking lot to a speed that will prevent a collision.
In both cases the wrong speed could cause real damage.
An Algorithmic Trading System needs a way to do that in trading and it uses a formula to calculate that.
In some situations you need to trade smaller positions or fewer positions, in other situations you need to step on the gas pedal.
The art is to find the right setting.
Like in real life it is not a good idea to step on the gas pedal on icy roads.
And it is not a good idea to drive on a Highway with 5 miles per hour.
As a driver for your Algorithmic Trading System you need to find the right adjustments for you.
You can download the free version for the Algorithmic Trading System below the video on our website  AlgorithmicTradingSystem.com
It will work with original Metatrader 5 demo accounts.
If you are interested to learn more, or if you are interested to trade this system on a real account, make sure to become a starter member for just one dollar.