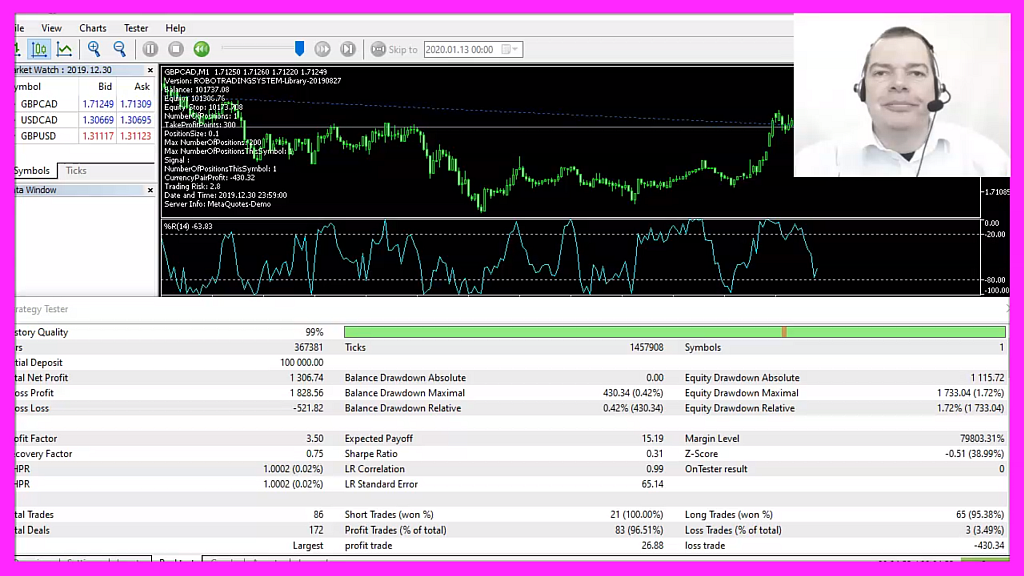 Download "FREE EXPERT ADVISOR - ALGORITHMIC TRADING SYSTEM - WILLIAMS PERCENT RANGE FOR METATRADER5 DEMO ACCOUNTS"

ALGORITHMICTRADINGSYSTEM20200106-Demo-WPR.zip – Downloaded 778 times – 92.99 KB
What is the difference between a multi currency system and a system for only one currency pair?
Well, if you ever have read a book about stock trading, you might have heard about diversification.
Stocks are dangerous, because when a company does something stupid that stock prices might fall like a stone.
Therefore people buy stocks from different companies to minimize the risk.
That is what I do with different currency pairs.
I just use the same Algorithmic Trading System in the same Metatrader 5 instance to trade up to 22 currency pairs at the same time.
Of course I need to adjust the risk settings for each currency pair, but everything else is the same.
Some currency pairs work better, others do not work so good. 
While you might have good profits with one currency pair in one trading year, that might not work so good in other years.
But basically currencies don't go away, they never declare insolvency.
Money has always been around, because it is something that people need.
That is one of the reasons why I prefer Forex Trading.
In over half a decade I have never seen a currency pair disappear.
You can download the free version for the Algorithmic Trading System below the video on our website  AlgorithmicTradingSystem.com
It will work with original Metatrader 5 demo accounts.
If you are interested to learn more, or if you are interested to trade this system on a real account, make sure to become a starter member for just one dollar.