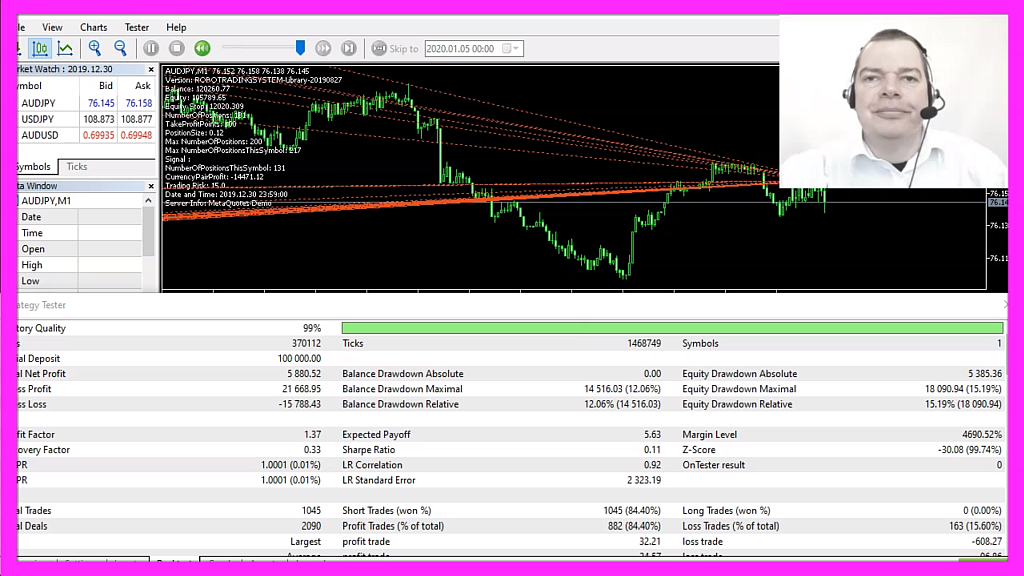 Download "FREE EXPERT ADVISOR - ALGORITHMIC TRADING SYSTEM - SMA 1000 FOR METATRADER5 DEMO ACCOUNTS"

ALGORITHMICTRADINGSYSTEM20200106-Demo-SMA1000.zip – Downloaded 381 times – 94.11 KB
For an Algorithmic Trading System we want to avoid a few things.
We want to avoid to lose money, that is for sure.
We also want to avoid big draw downs, because that will make us feel bad.
We also want to avoid situations where we don't know what to do.
If you have ever asked yourself in the middle of the night if you account would be still alive, your account size is probably too big.
Or your position size is too big.
Nobody loses sleep about a loss of 17 Cents, but it feels different for 17000 dollars.
An Algorithmic Trading System does not care, it is just going to trade the rules.
You might have noticed that this system has some very quiet times where Equity and Balance are very close.
That is the time when it feels good to trade something like that.
But you will also have to face the bad times, when you are in a middle of an unpleasant draw down.
That is the part when most traders start to manipulate their strategy.
An Algorithmic Trading System will never do that – and that makes it the better trader.
You can download the free version for the Algorithmic Trading System below the video on our website  AlgorithmicTradingSystem.com
It will work with original Metatrader 5 demo accounts.
If you are interested to learn more, or if you are interested to trade this system on a real account, make sure to become a starter member for just one dollar.